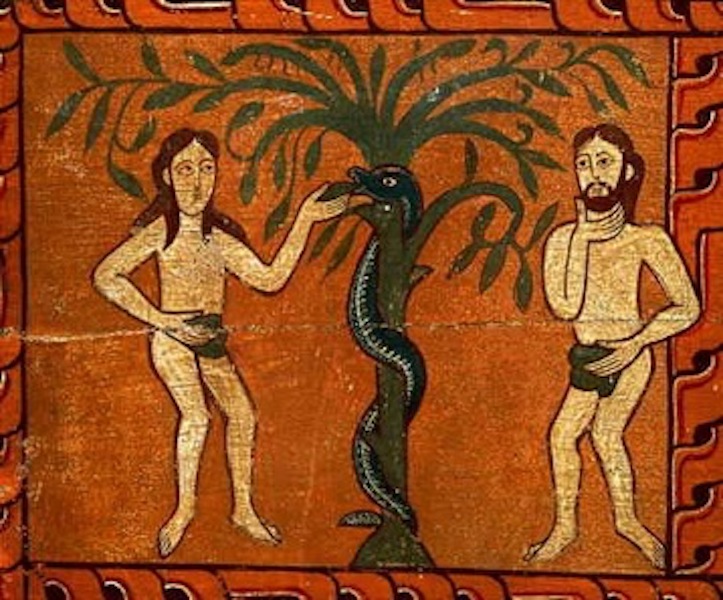 För svensk text v. g. scrolla ner!
ARTICLE BY THE SWEDISH CULTURAL ANTHROPOLOGIST
JAN OVESEN
This English text isn´t corrected yet; just made by the Google Translator.
The egalitarian paradise has never existed. The search for a society where man and woman have the same power is a task for the myth, not science
PUBLISHED 1994-11-17 in Swedish daily Dagens Nyheter
History reconstructs the past. The myth interprets the past to justify political programs. If the humanities are to maintain their credibility, it is extremely important to distinguish between myth and history, Jan Ovesen argues in a reply to Tore Håkansson´s and Eva Moberg's articles on ancient "equality" of the Mediterranean community.
Much is a symbolic story whose action is usually given to ancient times but whose meaning is relevant to contemporary conditions. By telling the origins of different natural and cultural phenomena (such as human origin, its use of fire, arms and agriculture, or her way of organizing and distributing power in their society), the myth explains why things are as they are today. The function of the myth is thus to explain and possibly legitimize contemporary customs and use or to support beliefs or hopes of the future.
History (in the sense of the scientific study of history) on the other hand is the description and exploration of the past reality. As sources of this exploration, written testimony (as far as they exist) is used, but also oral traditions and archaeological findings. These sources must always be interpreted, and this interpretation is inevitably made to some extent from the historian's contemporary perspective. This means that even scientific history writing can often have some mythical features.
Nevertheless, it is extremely important if the humanities should maintain their credibility that the two dimensions of intellectual activity - the description or reconstruction of the past reality, and the explanation or legitimacy of present-day relationships - are kept apart. Two articles recently published on the third page, by Tore Håkansson (DN 1/11) and Eva Moberg (DN 2/11), are unfortunately examples of the confusion of these dimensions. It is not a question of history being "true" and the myth is "false", but the "truth" of the different types of stories is at different levels. Among Mucuru Indians in Brazil are told the following myth: Initially, women had the power in society because they possessed the holy trumpets used in the contact with the spirits. They ordered the men to catch wood and water and to cook, and they forced them to have intercourse. But the women did not hunt and they could not sacrifice meat to the spirits, which they needed. Thus, the men had to take away the sacred trumpets from the women and thus take power in society.
Corresponding myths exist not only among other Amazon indians but also in many other cultures in different parts of the world. People who tell these myths are not more stupid than others and are aware of  the stories not being descriptions of a past reality, but explanations of today's circumstances. However, this insight was not shared by the Swiss lawyer and cultural historian J J Bachofen, who collected a wealth of such stories in the 19th century. Bachofen treated these as historical testimonies of ancient matriarchal social order and presented (in the book Das Mutterrecht 1861) a theory according to which the matriarchy was a former (and therefore lower) stage of societies' general development.
Both  Bachofen and most of his contemporary (including Marx and Engels) considered this theory being a historical description, a reconstruction of the past reality. Today, most people realize that it is a myth, whose function was to legitimize the contemporary patriarchal social order as the inevitable outcome of development and the "progress" from "lower" to "higher" stages.
Since the time of Bachofen, anthropologists have vainly sought for matriarchal social systems among "primitive" peoples all over the world. Despite the fact that hundreds of societies have been investigated which, in technological terms, could be defined to be on the "niveau of  the stone age", so far, there has not been one single case of matriarchy in the sense that women have the same kind of power and dominance as men in patriarchal society.
Even in matrilinaire communities (that is, where descendants follow   and property is inherited in the mother's line - male property from uncle to his neview), most political and economic decisions are still made by men. Anthropologists have largely drawn the same conclusion as Mondurucu indians, namely that the distribution of power is linked to the division of labor in the supply economy.
In DN, Tore Håkansson, with the support of Eva Moberg, has spoken on behalf of Marija Gimbuta's archaeomyological theory of a "gylanic" age in the Near East, where war did not occur, where there were no hierarchies, none of which were poor or rich, oppressed or ruler, and where existence revolved around the cult of the Mother Goddess. This paradise was destroyed by four waves of conquering riders from the East about 5,000 years ago, and since then patriarchy women's pressure and violence have been prevailing in our part of the world.
The historical basis for several of these concrete assumptions has been questioned and can still be questioned, but the mythological message is entirely in the spirit of Bachofen, with the opposite sign: sometime in the world there was a society similar to what we would like to (re) create ; What was possible in the early days should be possible today.
Personally, I have great sympathy for this myth. But since every myth has to be told in a way that puts it in relation to contemporary relationships, a modern myth must be fitted with scientific apparel to seem convincing. And this is where Gimbutas and Håkansson encounter problems with other existing archaeological knowledge.
To be fair, it must be pointed out that neither Håkansson nor Moberg associate the "gylanic" regime with the matriarchate; This addition to the myth is responsible for the culture of culture. It should also be mentioned that Håkansson is from far from being alone in trying to win approval for the idea in recent times. That this success hasn´t been achieved so far, Håkansson wants to explain with the fact that Marija Gimbutas is largely unknown in Sweden, and that her feminist orientation would make her findings difficult for male researchers to acquire (obviously Håkansson is a brilliant exception).
As for the previous argument, it could be noted that  Gimbutan's works is mentioned at at least two places in the Nationalencyklopedia - in the articles about Indo-Europeans and the Kurgan culture. Regarding the latter argument, I can not understand why also male researchers would not be able to understand her theses.
On the contrary, her idea seems that the "gylanic" idyll in, for example, Çatal Hüyük was destroyed by conquering riders, is an example of the traditional militaristic (typical male kind of thinking that drastic cultural changes necessarily have to be attributed to violent intrusion by  people from outside. Here Gimbutas generalizes on inadequate grounds .
First, Çatal Hüyük was a city with about 6,000 inhabitants. This is far from an extreme size for a society without hierarchies and centralized political power. The village had a favorable location regarding access to arable land and cavetous commodities (obsidian), which formed the basis for its well-being. No fortification was found, and there are no archaeological testimonies that indicate that a conquest had led to its abandonment as a settlement approximately 4,500 years ago.
Secondly, we can compare with the approximately contemporary settlement in Jericho; It had a similar size and the same beneficient opportunity to develop as a trading center. Jericho, however, was  considered to be in need of fortification 10, 000 years ago,  and the religion was focused rather on ancestral cult than on the cult of the mothergoddess. Later fortifications were built just over 4,000 years ago, but about 700 years later, Jericho was abandoned, probably without the involvement of some conquerors (The Old Testament's story about Joshua's conquest does not match the archeological chronology). It has been suggested that both Çatal Hüyüks and Jericho's fate can be explained by the increasing stocktraising in the Near  East resulted in reduced importance of long-distance trade.
Third, in Egypt, about 5,000 years ago, a society with strong hierarchical ideology emerged, whose wealth was initially based on the exploitation of the labor force of the production-producing classes. There was also no conquest in that case, but the system developed among the people who had originally immigrated to the area from the south 7,000 years earlier.
Looking at the circumstances in  Southeastern Europe during the period 4,000 to 2,000 before our countdown, newer archaeological research gives a considerably more complicated picture than the one that Gimbutas signed at the beginning of the 1970s. Certainly, figurines of the "mother goddess" were found in about 30,000 copies - probably they made up permanent constituents of every house-altar- but already at the Danube (Lepen Ski Vir), about 7,000 years ago, there was a hierarchical culture - based on fishing, Hunting and gathering, similar to the one that is now known from the Northwest Indians - with chief graves and male gods.
And in northern Greece, fortified settlements were built on mountain slopes 5,500 years ago, not as a defense against future conquerors, but as a result of the increasing pressure of agriculture on resources.
The growing amount of archaeological research has made the theories of immigration and conquests as the main cause of social change increasingly unreasonable.
However, I do not consider that we need to abandon the myth of a unanimous ancient culture of peace and equality just because it does not match the findings of sience. Man has always had the need for myths to support ideologies and utopias. Our own Freja was an excellent fertility goddess. Unless "Aryan" racists not completely have monopolized Nordic mythology, perhaps the cult of Freja could be an alternative to our current dominant religions, the Market and the Christian Church.
JAN OVESEN
Lecturer in Cultural Anthropology,
Uppsala university
______________________________________________
It is exactly as I supposed it to be:
Nothing at all of the things mr Ovesen has to tell about the culture in  Lepinski Vir seem to be underpinned with scientifical proofs. Quite the contrary all of it seem to be built on idle lies.
There are no signs at all of any fortfications  and neither any of a hierarchial patriarchal societiy like the ones of some indians in Northamerica a.s.o.
________________________________________________________
THE SWEDISH TEXT
Jämlikhetens paradis har aldrig existerat. Sökandet efter ett samhälle där man och kvinna har samma makt är en uppgift för myten, inte vetenskapen
PUBLICERAD 1994-11-17 in Sweedish daily Dagens Nyheter
Historien rekonstruerar det förflutna. Myten tolkar det förflutna för att rättfärdiga politiska program. Skall de humanistiska vetenskaperna bevara sin trovärdighet, är det utomordentligt vikigt att man skiljer på myt och historia, skriver Jan Ovesen i en replik på Tore Håkanssons och Eva Mobergs artiklar om forntidens "jämlika" Medelhavssamhällen.
EN MYT ÄR EN symbolisk berättelse vars handling i regel är förlagd till forntiden men vars innebörd har relevans för nutida förhållanden. Genom att berätta ursprunget till olika naturliga och kulturella fenomen (till exempel människans ursprung, hennes användning av eld, vapen och jordbruk, eller hennes sätt att organisera och fördela makten i sitt samhälle) ger myten en förklaring till varför saker och ting är som de är i dag. Mytens funktion är således att förklara och eventuellt legitimera nutida seder och bruk eller att ge stöd åt trosföreställningar eller förhoppningar om framtiden.
Historia (i betydelsen det vetenskapliga studiet av historien) å andra sidan är beskrivningen och utforskningen av den förflutna verkligheten. Som källor till denna utforskning används främst skriftliga vittnesbörd (i den mån sådana finns) men också muntliga traditioner och arkeologiska fynd. Dessa källor måste alltid tolkas, och denna tolkning görs ovillkorligen till viss del från historikerns samtida perspektiv. Detta innebär att även vetenskaplig historieskrivning ofta kan ha vissa mytiska drag.
Icke desto mindre är det utomordentligt viktigt, om de humanistiska vetenskaperna skall bevara sin trovärdighet, att de två dimensionerna av intellektuell verksamhet - beskrivningen eller rekonstrueringen av den förflutna verkligheten, och förklaringen eller legitimeringen av nutida förhållanden - hålls isär. Två artiklar som nyligen publicerades på Tredje sidan, av Tore Håkansson (DN 1/11) och Eva Moberg (DN 2/11), är tyvärr exempel på sammanblandningen av dessa dimensioner. Det är inte fråga om att historien är "sann" och myten är "osann", utan att "sanningen" i de olika typerna av berättelser ligger på skilda nivåer. BLAND mundurucuindianerna i Brasilien berättas följande myt: I början hade kvinnor-na makten i samhället därför att de förfogade över de heliga trumpeterna som används vid kontakten med andarna. De beordrade männen att hämta ved och vatten och att laga mat, och de tvingade dem att ha samlag med sig. Men kvin-norna jagade inte och de kunde därför inte offra kött till andarna, vilket de behövde. Männen var således tvungna att ta ifrån kvinnorna de heliga trumpeterna och därmed ta makten i samhället.
Motsvarande myter finns inte bara bland andra amazonindianer utan inom många andra kulturer i skilda delar av världen. De folk som berättar dessa myter är inte dummare än andra människor och de är medvetna om att berättelserna inte är beskrivningar av en förfluten verklighet utan förklaringar till nutida förhållanden. Denna insikt delades dock inte av den schweiziske juristen och kulturhistorikern J J Bachofen, som på 1800-talet samlade en mängd sådana berättelser. Bachofen behandlade dessa som historiska vittnesbörd om forntida matriarkaliska samhällsordningar och framlade (i boken "Das Mutterrecht", 1861) en teori enligt vilken matriarkatet var ett tidigare (och därför lägre) stadium av samhällenas generella utveckling.
Både Bachofen och de flesta av hans samtida (däribland Marx och Engels) ansåg att teorin var en historisk beskrivning, en rekonstruktion av den förflutna verkligheten. I dag inser de flesta att den är en myt, vars funktion var att legitimera den dåvarande patriarkaliska samhällsordningen som det oundvikliga resultatet av utvecklingen och "framsteget" från "lägre" mot "högre" stadier.
Sedan Bachofens tid har nämligen antropologer förgäves sökt efter matriarkaliska samhällssystem bland "primitiva" folkslag överallt i världen. Trots att man har undersökt hundratals samhällen som i teknologisk mening kunde sägas befinna sig på "stenåldersnivå" har man än så länge inte hittat ett enda fall av matriarkat i betydelsen att kvinnor har samma typ av makt och dominans som männen i det patriarkaliska samhället.
Även i matrilinjära samhällen (det vill säga där härstamning räknas på mödernet och där egendom ärvs i kvinnolinjen - manlig egendom från morbror till systerson) fattas de flesta politiska och ekonomiska beslut ändå av män. Antropologerna har i stort sett dragit samma slutsats som mundurucuindianerna, nämligen att maktfördelningen sammanhänger med arbetsfördelningen inom försörjningsekonomin.
I DN HAR Tore Håkansson, med stöd av Eva Moberg, gjort sig till talesman för Marija Gimbutas arkeomytologiska teori om en "gylanisk" tidsålder i Främre Orienten, där krig inte förekom, där det inte fanns hierarkier, där inga var fattiga eller rika, förtryckta eller härskare, och där tillvaron kretsade kring kulten av modergudinnan. Detta paradisiska tillstånd förstördes av fyra vågor av erövrande ryttarfolk från öster för ungefär 5 000 år sedan, och sedan dess har patriarkat, kvinnoförtryck och våld varit rådande i vår del av världen.
Den historiska grunden för flera av dessa konkreta antaganden har ifrågasatts och kan fortfarande ifrågasättas, men det mytologiska budskapet är helt i Bachofens anda, fast med motsatt förtecken: någon gång i världen fanns det ett samhälle som liknar det vi gärna skulle vilja (åter)skapa; vad som var möjligt i forntiden borde vara möjligt i dag.
Personligen har jag stor sympati för denna myt. Men eftersom varje myt måste berättas på ett sätt som sätter den i relation till samtida förhållanden, så måste en modern myt iklädas vetenskaplig dräkt för att verka övertygande. Och det är här som Gimbutas och Håkansson råkar i problem med annan befintlig arkeologisk kunskap.
Det skall i rättvisans namn påpekas att varken Håkansson eller Moberg förknippar den "gylaniska" ordningen med matriarkatet; detta tillägg till myten får stå för kulturredaktionens räkning. Det skall också nämnas att Håkansson långtifrån är den första som i nyare tid försöker vinna gehör för idén. Att man hittills inte lyckats så väl vill Håkansson förklara med att Marija Gimbutas är i stort sett okänd i Sverige, samt att hennes feministiska inriktning skulle göra hennes forskningsresultat svåra för manliga forskare att tillägna sig (uppenbarligen utgör Håkansson här ett lysande undantag).
Vad gäller det förra argumentet kan nämnas att Gimbutas arbeten faktiskt nämns på åtminstone två ställen i Nationalencyklopedin - i uppslagen indoeuropéer och kurgankulturen. I fråga om det senare argumentet kan jag inte förstå varför inte även manliga forskare skulle kunna begripa hennes teser.
Tvärtom tycks hennes idé att den "gylaniska" idyllen i till exempel Çatal Hüyük förstördes av erövrande ryttarfolk vara ett exempel på det traditionella militaristiska (typiskt manliga  tänkandet att drastiska kulturförändringar med nödvändighet måste tillskrivas våldsamma intrång av utifrån kommande folk. Här generaliserar Gimbutas på bristfälliga grunder.
För det första var Çatal Hüyük en by med ungefär 6 000 invånare. Detta är långtifrån någon extrem storlek för ett samhälle utan hier-arkier och centraliserad politisk makt. Byn hade ett fördelaktigt läge vad gäller tillgång till åkermark och handelsbegärliga råvaror (obsidian), vilket bildade grunden för dess välmående. Någon befästning fanns inte, och det finns inga arkeologiska vittnesbörd som talar för att det var erövring som ledde till att den övergavs som bosättning för cirka 4 500 år sedan.
För det andra kan vi jämföra med den ungefär samtida bosättningen i Jeriko; den hade en likartad storlek och samma goda möjligheter att utvecklas som handelscentrum. I Jeriko ansåg man sig emellertid redan för 10 000 år sedan ha behov av befästning, och religionen var fokuserad snarare på anfäderskult än på kulten av modergudinnan. Senare befästningsanläggningar uppfördes för drygt 4 000 år sedan, men cirka 700 år senare övergavs Jeriko, antagligen utan medverkan av några erövrare (Gamla testamentets berättelse om Josuas erövring överensstämmer ej med den arkeologiska kronologin). Det har föreslagits att både Çatal Hüyüks och Jerikos öden kan förklaras med att den ökande boskapsskötseln i Främre Orienten resulterade i minskad betydelse av långdistanshandeln.
För det tredje uppstod i Egypten för cirka 5 000 år sedan ett samhälle med en starkt hierarkisk ideologi, vars rikedom från början var baserad på exploatering av de födoproducerande klassernas arbetskraft. Det var inte heller tal om någon erövring i det fallet, utan systemet utvecklades bland de folk som ursprungligen hade invandrat till området från söder 7 000 år tidigare.
SER VI TILL förhållanden i sydöstra Europa under perioden 4 000 till 2 000 före vår tideräkning, ger nyare arkeologisk forskning en avsevärt mera kom-plicerad bild än den som Gimbutas tecknade vid början av 1970-talet. Visserligen har figuriner av "modergudinnan" funnits i cirka 30 000 exemplar - antagligen var de en fast beståndsdel av varje husaltare - men redan för ungefär 7 000 år sedan fanns det vid Donau (Lepen-ski Vir) en hierarkisk kultur - baserad på fiske, jakt och insamling, liknande den som i vår tid är känd från nordvästkustindianerna - med hövdingagravar och manliga gudar.
Och i norra Grekland byggdes befästa bosättningar på bergssluttningarna för 5 500 år sedan, inte som försvar mot utifrån kommande erövrare utan som resultat av jordbrukets ökande tryck på resurserna.
Den växande mängden av arkeologiska forskningsresultat har gjort teorierna om invandringar och erövringar som den främsta orsaken till samhällsförändringar alltmer orimliga.
Jag anser emellertid inte att vi behöver överge myten om en enhällig forntida kultur av fred och jämlikhet bara därför att den inte stämmer med vetenskapens rön. Människan har i alla tider haft behov av myter som stöd för ideologier och utopier. Vår egen Freja var en utmärkt fruktbarhetsgudinna. Om inte "ariska" rasister helt monopoliserat den nordiska mytologin, kunde kanske kulten av Freja bli ett alternativ till våra nuvarande dominerande religioner, Marknaden och den kristna kyrkan.
JAN OVESEN
Docent i kulturantropologi,
Uppsala universitet