ELIN WÄGNER 1882-1949
T  I  M  E    H  A  S    C  O  M  E    F  O  R    C  H  A  N  G  E   -   A  T    L  A  S  T  !
Writing this page about the Swedish journalist, author, suffragist feminist, culture radical, peaceworker, ecologist- environmentalist and, last but not least, self-taught MMS-researcher and philosopher of science, Elin Wägner is not less demanding, than writing the one of the brilliant archeologist beyond comparison; Marija Gimbutas, and their encyclopedic contribution of new knowledge and thinking, far ahead of their time.
Anyhow I think the problem might be the same for just anyone, trying to give an accurate portray of Elin Wägner´s all-round and complex personality and work. Dependant on the width of ones own perspective, most of us mortals would have to limit ourself to two - three aspects of the multi-faceted creation of her complex web of thoughts and actions, amalgamated to an unseparable hole, not to get tangled up never to get out gain.
And perhaps that is one of the reasons why Wägner´s brilliant authorship never achieved the fame it deserved after her lifeime - that it is impossible to pigeonhole - not at least in regard to the fact that so few of her books have been translated into english, as for example her most famous one; the pamphlet Väckarklocka (Alarm Clock) 1941, which I will try to present and partly translate into english on next page, because of its many interesting comments on the the topic of matriarchy
In this sounded a wake-up call for women to realize their potential to bring about world peace and save the environment, inspired by the "matriarchal alternative" visualised and contextualised in astonishingly congruency with the model defined by Heide Göttner Abendroth´s in her theoretical framework to the multidisciplinary field of Modern Matriarchal Studies and since ages implemented in the matriarchal societies still existing today.
Elin Wägner was really great, her influence on the Swedish cultural and political development as a brilliant journalist and novel writer on the most crucial cultural-ideological, political and scientifical issues of the 20th century of feminism, peace and environment, cannot be overestimated, not at least in consideration of its effects on global level as constituting the perhaps most fundamental inspiration of Inga Thorson´s and Alva Myrdal´s resistance against Sweden getting nuclear weapons and their later work both in United Nations and in Geneva in the Conference on Disarmament expanded  in 1962 from 10 to 18 members where Sweden as a neutral country became one of the new  members. Alva Myrdal was the first chair of the Swedish Delegation 1962 to1973, followed by Inga Thorson 1973-1982, followed by Maj Britt Theorin 1982 to 1991. 
She was an environmentalist long before Rachel Carson and Väckarklocka, (Alarm Clock) which often has often been compared with Rachel Carson´s  Silent Spring 1962, and to me has got potentials of the same calibre as Virginia Wolf´s A Room of Ones Own, 1929 and  Thre Guineas, 1938.
No wonder why the ideas Elin Wägner so desperately tried to communicate to her contemporaries in Väckarklocka, 1941, published in the midst of the burning war, not only have been rediscovered by the 2nd wave feminists in the 70th, due to the relevance of the pacifist and environmental message, but even now in the twentieth century among the third wave of feminists, there has been a rediscoveryof the multifaceted and holistic complex web of ideas in some more up to date aspects.
And as such she has been delineated as a postmodern"dialogic nomadist" in the discourse of Rosi Braidotti by Helena Forsås Scottt in her disseratation; Rewright The Script, Gender and Community in Elin Wägner  -  and compared with recent work in ecocriticism and ecological feminism, particularly the theories of Rosi Braidotti, illuminating an ecological dimension of Wägner's texts that makes them particularly pertinent for twenty-first-century readers, as well as seen in relation to the paradigm of selforganising systems in the discourse of Iliya Prigogine & Jantsch et al. according to which also the system-theorist and ecofeminist Riane Eisler, with her transformation theories and the ecofeminist, writer and philosopher Charlene Spretnak refer, in her teaching in terms of "relational reality" and or "dynamic interrelatedness".

Thus her pioneering work far ahead of her time, has nowadays, about 80-100 years later, been illuminated from three different perspectives at the same time; first by the findings in the field of Modern Matriarchal Studies, and second by the latest theories in the discourse of postmodernist / ecocriticism and ecological feminism, and third by the theories about self organising systems, which at last would bring about the accurate assessment of her ideas, that they deserve.
Up until now Elin Wägner has remained astonishingly unknown to common people in her own country, and evenso to the younger more welleducated generation, including the feminist of the third wave, to a great deal because of the misunderstanding of her as an "essentialist". Among more specialist orientated literature historian and / or environmentalist and / or feminists there have been all the more focus at her work, and several disserations written from different perspectives, as well as biographs over her dynamic cosmopolitan "dialogic & nomadic" (Braidotti) lifestyle & attitude and entanglements in the most crucial issues of her time, unluckily though most of them written in Swedish except for the dissertations by Forsås Scott´s mentioned above as well as Katarina Leppänen (reviewed further down) in which she lifts away the stamp of Wägner as a conservative essentialist, and shed light on her dynamic dialogique interrelatedness with the intellectual feminists so-called "matriarchalists" on the European continent.
One of Wägners most urgent aims was to re-establish the selfconfidence of women, by giving them their history back, that has been omitted and /or deliberately downgraded by male stream history-writing. Ironically, accurate the same ambition, I beleive, was the reason to why she herself was omitted from history, and almost forgotten, was it not for the Elin Wägner - assembley which was constituted 1990.
On its homepages you can find a lot of information on Elin Wägners life and work in Swedish, and a page with her biography in English.
Not only Wägners rich production of novels, short stories, essays and articles is stemming from a wealth of knowledge and wisdom, reflecting a complex relational worldview far ahead of her time, but also her life was as rich and comprehensive as a novel in itself, as shown in the biography of 650 pages by Ulla Isaksson & Erik Hjalmar Linder - Amason med två bröst 1882-1922) 1977 and Dotter av Moder Jord 1922-1949) 1980 always at the center of events, as the tough experienced and hardened reporter of life that she had become.
The History of Men and Women is as Intertwined as Warp and
Weft. They Have Managed to Make a History out of the Weft alone.
 It´s an Enormous Task to Dig Out the History of  Women.
IIt´s a Cypher whose Key Lies in a Remote Past.
                                                                          Alarm Clock, 1941
W H O   W A S   E L I N   W Ä G N E R ?
Elin Wägner was born in Lund in southern Sweden in 1882. Her mother died when she was three. Her father, a
minister and school principal, sent her brother Harald to university but refused to do the same for Elin, and therefore she dropped out of high school in anger.
After serving as her father´s secretary for a short time, she created her career as a journalist on newspapers on the countryside in Sweden, whereafter she soon moved to Stockholm to take up the post of Assistant Editor-in-Chief at the women's weekly Idun (1907-17). She also contributed to the liberal daily Dagens Nyheter, sometimes signing herself 'Devinez'.
Together with the women in Fogelstadkollektiv she founded and the radical weekly Tidevarvet (1923-36) and served as its Editor 1925-27, and contributed hundreds of articles throughout the paper's lifespan.
Wägner was a well-known journalist in Stockholm and had published novels such as Norrtullsligan (The Norrtull Gang) and Pennskaftet (Penwoman), both about professional women in an urban setting, when she had her literary breakthrough witha novel set in Småland, Åsa-Hanna (1918). And these two books are the only one translated into English, the former with the heading: Men and Other Misfortunes and Stormy Corner.
Wägner´s first novel Norrtullsligan (Men and Other Misfortunes in the translation) was originally a popular newspaper serial. In 1908 it came out as a book and was an immediate success for its witty and sympathetic depiction of the struggles of the new women office workers in the cities.
She went on to publish numerous novels as well as collections of short stories. Several of her works are set in Småland, and a number of them deal with key issues of the period such as suffrage for women, peace, and the environment.
Her travelogue-cum-local-history Tusen år i Småland (1939); (A Thousand Years in Småland) remains a useful travel guide, and have some comments on the mathriarchal theme, pursued  further in Väckarklocka, 1941.
In the pamphlet Fred med jorden (1940; Peace with the Earth), Wägner and Elisabeth Tamm, a landowner and politician, outlined a model for a sustainable agricultural policy.
The pamphlet Väckarklocka (1941; Alarm Clock) deals with key social issues that are still relevant today: gender equality, peace, and the environment, and pursue the "matriarchal alternative" visualised and contextualised in astonishingly congruence with the model defined in Heide Göttner Abendroth´s theoretical framework to the multidisciplinary field of Modern Matriarchal Studies and since ages  implemented in the matriarchal societies still existing today.
Following the publication of Wägner's much-acclaimed biography (1942-43) of Selma Lagerlöf (1858-1940; Nobel Prize for Literature in 1909), she was elected a member of the Swedish Academy in 1944 (Chair No. 15).
Wägner was one of the "New Women" prominent in the literature and culture of the early twentieth century in Europe and the United States. While continuing as a journalist, she began to write innovative fiction in the bold spirit of contemporaries she admired, among them Virginia Woolf, Charlotte Perkins Gilman, Olive Schreiner, and Vera Brittain.
B O O K S   W R I T T E N   B Y   A N D   A B O U T   E L I N   W Ä G N E R   I N   E N G L I S H:  
Penwoman is the classic novel about the Swedish women's suffrage movement. Originally published in 1910, this was Elin Wägner's second novel. Having begun her career as a journalist, she went on to become one of Sweden'sleading writers, her prolific output developing radical feminist and feminist-pacifist tendencies.
The novel, whose central character is a young female journalist, offers exceptional insights into the dedicated work and strong sense of sisterhood uniting a group of women campaigning for suffrage. But it also explores a range of other issues affecting the situation of women in Sweden at the time, from the role of paid work to matters of morality,
eroticism and love. The refreshingly disrespectful and witty style has helped make the novel one of Wägner's
most enduringly popular.
It was quickly translated into Danish, Russian and German, but this is the first time it has been published in
English.The translator, Sarah Death, is one of the foremost translators of Swedish literature, and has won the prestigious
George Bernard Shaw Translation Prize on two successive occasions, in 2003 and 2006.
Wägner´s books continue to be studied and enjoyed in Sweden and have been translated into French, German, Dutch, and Russian. She never succeeded in her lifetime, however, to realize her great desire to see her works appear inEnglish. These translations in Stockholm Stories now introduce them to the wider audience they deserve.
D I S S E R T A T I O N S   I N   E N G L I S H
RETHINKING CIVILISATION IN A EUROPEAN CONTEXT,
history, nature, women in Elin Wägner's Väckarklocka /Alarm Clock in 1941, 
Dissertation by Katarina Leppänen, 2005
This book analyses the ideas of the Swedish journalist, feminist, and literary author Elin Wägner (1882-1949), as conveyed in her book  Väckarklocka (1941), in a European feminist context.
This context is presented in terms of three elements.
Firstly, the German sociologist/educationalist Mathilde Vaerting and her sociology of power played an important role in Wägner's development of a theory of matriarchy.
Secondly, the influence of the Austrian feminist Rosa Mayreder and her theory of masculine civilization and feminine culture are analyzed in relation to Wägner's development of what might be called an early
ecological feminism.
Thirdly, the mainly unknown Women's Organization for World Order (WOWO) is presented, which wanted to strengthen women's position and confidence as political citizens by providing them with a historical past where women ruled (matriarchy).
Thereby they not only reinvented a past, but also revitalized the emergence or eternity of patriarchy. These women discussed the possibility of women offering an alternative to the prevailing order.
A special analysis is made of Mayreder's and Wägner's way of discussing what woman is and in what ways she can challenge the system. Both argued that women ought to have the same rights and duties as men, but that this should not require them to adapt to the distorted male system.
This study argues that this position, easily characterized as "essentialist" in modern feminist terms, is in fact functional and strongly emancipatory in its time and context.
In this reevaluation of Väckarklocka Katarina Leppänen has established this important Swedish novel as a text central to the development of the feminist movement. Elin Wägner's Alarm Clock is a book suitable for students of Swedish Literature and European Feminism.
I have got some serious ciritics, though, of the way Leppänen is commenting on the topic of matriarchy, as well as for not observing sceintific rigor with some appearent inaccuraces, that I have declared on a page under the heading "Male Stream "Science" 
Gender and Community in Elin Wägner
dissertation by Helena Forsås-Scott 2013
Review by Lynn R. Wilkinson:
"Feminist, suffragist, pacifist and environmentalist, Elin Wägner was the author of a prodigious amount of journalism, political pamphlets and prose fiction as well as an acclaimed biography of Selma Lagerlöf. She belonged to thecircle of women who founded the radical weekly
Tidevarvet (The Epoch) and the unique Women Citizens' College at Fogelstad.
Some of Wägner's texts are found to have outlined bold alternatives to the Swedish welfare state, and the combination of gender and environmentalism in some of the late texts anticipated much more
recent ecocritical works.
Helena Forsås-Scott, was a lecturer on Scandinavian literature and culture, translation, and gender studies at University College London, and has published extensively on Scandinavian literature and gender.
In this thought-provoking study she places Wägner's texts in the context of recent theory on gender and narrative according to the dialogic and nomadism ideas of the postmodernist Rosi Braidotti
"With Re-Writing the Script" Wägner´ scholarship has got a standard work. Forsås-Scott confirmed her position as the leading Wägner scholar and at the same time confirmed Wägner's position as both importantfor our time and central to our understanding of the first half of the twentieth century in Sweden."
Forsås-Scott argues that Wägner's later novels that represent women in the countryside are at least as important for the development of European feminism insofar as it is concerned
with issues of war and peace and with ecology.
Re-Writing the Script draws on narratology, especially the feminist narratology of Susan Lanser, to bring into focus rhetorical patterns in Wägner's fiction and other prose as well as in her early and late texts.
Recent work in ecocriticism and ecological feminism, particularly the theories of Rosi Braidotti, illuminates an ecological dimension [End Page 99] of Wägner's texts that makes them particularly pertinent for twenty-first-century readers.
Forsås-Scott argues that this aspect of Wägner's later works undoes a common assumption that her later thought and aesthetics are both more conservative and less interesting from a feminist perspective than her early urban narratives.
This study will be particularly useful to advanced undergraduates and graduate students in Scandinavian studies. Its careful discussions of theoretical issues provide a model for the interpretation of different kinds of texts, and its summaries of recent Swedish scholarship on twentieth-century Swedish culture and politics will be useful for researchers at all stages of their careers.
It is not difficult to accept Forsås-Scott's argument that a study of a writer's work should include texts that do not fall into obvious literary genres or that literary studies in general need to take a broader approach to writing.
This perspective is particularly interesting, however, because it allows us to situate women writers such as Wägner in the context of the emergence of the European intellectual in the twentieth century. Women figure all too rarely in histories and studies of intellectuals. 
Forsås-Scott shows that Elin Wägner certainly belongs there."
To women, the discovery of their own potentials, will be as big a surprise, as the discovery of the water power and the nuclear energy has been to the leading genius in last centuries. / Alarm Clock
To enter the system didn't mean that the women got any real influence there. For the majority education for service in the male system has meant re-schooling, polishing and adaptation. / Alarm Clock 
The only safe thing would be an order of things where domestic duties and gainful employement were an organic whole. / Alarm Clock
When the air is full of thunders from the sledgehammers, who can then hear the puffs from the toy pistols? / The Work Book
When people, with good reasons, stop treasuring their lives, you can´t any longer frighten them with tanks. / From Seine, Rhine and Ruhr
The fact that it is possible to reset our communities and engage every cog at the service of war, is because our societies, even during peaceful periods are disposed towards breaking up resistance, re-shape, conquer. / Alarm Clock
We only fear the progress since it has been transmuted into
rampage /Peace with the Earth
The effects of hatred we know very well, but do we know those of love as we haven´t tried them yet?
/ From Seine, Rhine and Ruhr
 
If we were´nt able to laugh, we would have given up long ago.           / From Seine, Rhine and Ruhr.
THE NEW WOMAN - STILL NEW TODAY
The Swedish literature historian Ebba Witt Brattström
writes in her last book; Kulturmannen, 2016, about the
so-called "Culture Man", defined by her as "a narcissist sexist, with the highest ranking on the culture market; symbol of the patriarchal complacency which still operates in culture life. Always at the expense of the Culture Woman´s no less billiant contributions", which then is reported has been very much so in the case of  Elin Wägners authorship;  under which "the flaptrap of historian oblivion is opened" - according to Brattströms viewpoint, due to Wägners ambition in her first bestselling novel Penwoman 1910, to teach men how to consort with New Women like herself.
EWB delineates New Women such as Elin Wägner herself, as the ones who really created history during these first decades of the 20th centuries - contrary to the Culture Men of her time, as for example her own husband John Landquist, who at least in my opinion, appears as a real fossil in comparison, not at least becaue of his condemnation of the worldfamous Swedish children´s book; Pippi Långstrump by Astrid Lindgren when it first was published 1946. No wonder their marriage didn´t last for so long and after the divorce 1921, Elin Wägner never married again, but stayed on her own for the rest of her life,  together with her faithful maid; Linnea Johansson.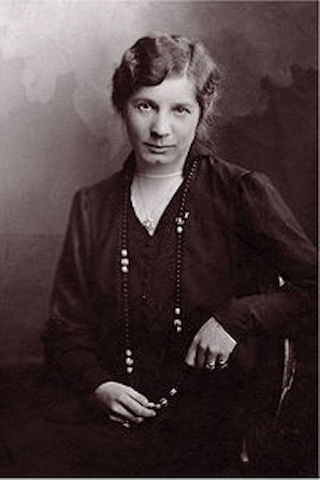 As a freudian psychologist and Strindberg- and latter even Hitler-admirer, it wouldn´t surprise at all, if even Landquist belonged to the cheerleaders of the greatest misogynit ever; Otto Weininger. The cultural climat of the time had since the end of the 1800s been marked by extreme misogyni, specifically articulated in Otto Weininger´s dissertation Geschlecht und Charakter (1903), (Sex & Character) with which he obtained a widespread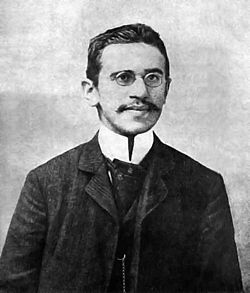 rumour of being a genius himself among the european intellectual elite. Shortly after its publication he committed suicide in the same house as Beethoven died. His cult of the genius and manliness was met with enthusiastic cheering from such eminent scholars and intellectuals as f. ex. Ludwig Wittgenstein, August Strindberg, Gottfried Benn, Ernst Jünger, Carl Schmitt, Robert Musil, Julius Evola, Georg Trakl, E.M. Cioran, Karl Kraus, Alfred Kubin och Franz KaFka.
A former girlfriend of John Landquist, visiting higher educational studies at the University of Uppsala took her life after having been deadly hurt by the words of Weininger, directed to her by her latter boyfriend at the same university, and that had a great impact on Elin Wägner and her friend Emilia Fogelklou, who both of them knew the girl well. An unpublished selfbiographical novel that she left behind herself, made Emila Fogelklou "twenty year oldier" and Elin Wägner didn´t manage to read to its end. Finally it was burnt in the 60th.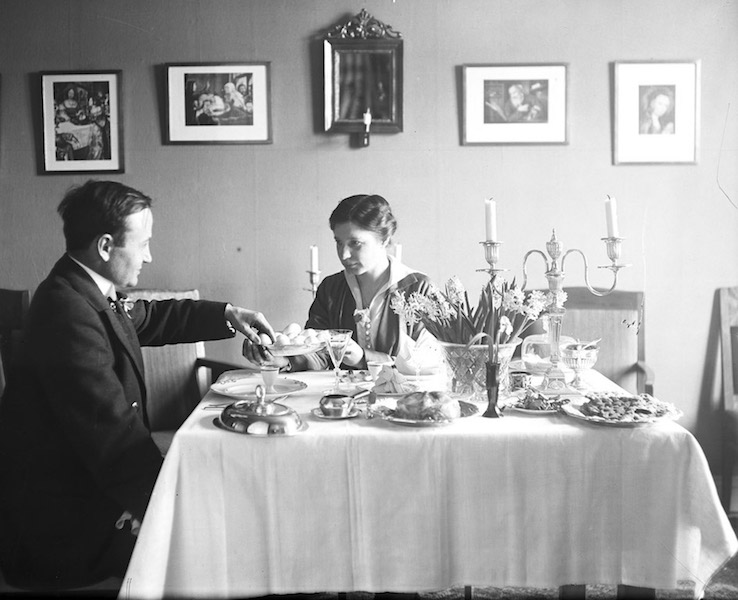 Anyway her marriage with the John Landquist and his "culture radical" ideas in common with Strindberg and his followers, offered her the encounter with the world of psychoanalysis and Freud, as well as the misogynic ideas of Otto Weininger, and plenty of challenging opportunities to ponder over the social Darwinist impact as well as the misogynism in the discourse among the "Culture Men" of the time.
Today´s judges, as for example by the social democrat journalist and writer Per Wirtén, assess her contributions to the debate on these issues of her time, as one of the few representants in the country who hold on to a commendably judicious standpoint, and so do also the green politician Birger Schlaug (one of Wägner´s most devoted admirerer) in consideration of her being a pioneer also in her critique of the use of poison as for example by rewarding a nobel Prize winner for having invented DDT.
Although Elin Welin outwordly might have seemed timid and secluded and perhaps even female dismissive, that was for certain not whas dwelled behind the surface. In her dairies her catchy sarcasm are often harsh, not at least when she was bothered by the mechanistic reductionism and social Darwinism practised by so many of the scholars of her time, (sometimes perhaps even directed to her close discussion-partner; the theologian, psychologist and author Emilia Fogelklou ?) as the "gnawers who have to gnaw the balks and beams asunder, until there is nothing left than the great piles of sawdust, before they have the guts to come up with one anxiois little kind of conclusion". (My free translation)
Fogelklou and Wägner pursued a common enterprise of investigating the matriarchy and JJ Bachofens book das Mutterrecht 1861, was sent back and forth between them both. Fogelklou was writing a dissertation about the law of inheritance in the case of the Swedish saint The Holy Birgitta.
Thus, quite obviously Elin Wägner represented also in the field of scientific research of history / mythology and archeology / anthroplogy and philosophy of science a surprisingly autonomous position, and didn´t in the long run seem to have been suffering from the lack of formal education. Quite the contrary she had the selfconfidence to assert her own fine calibrated and well developed assessment prowess, to great deal probably attained by her freedom of thought and effectiveness as an investigative journalist combined with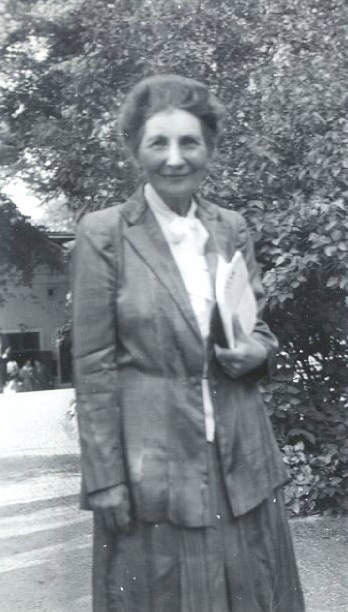 Elin Wägner´s close friend, the theologian and author Emilia Fogelklou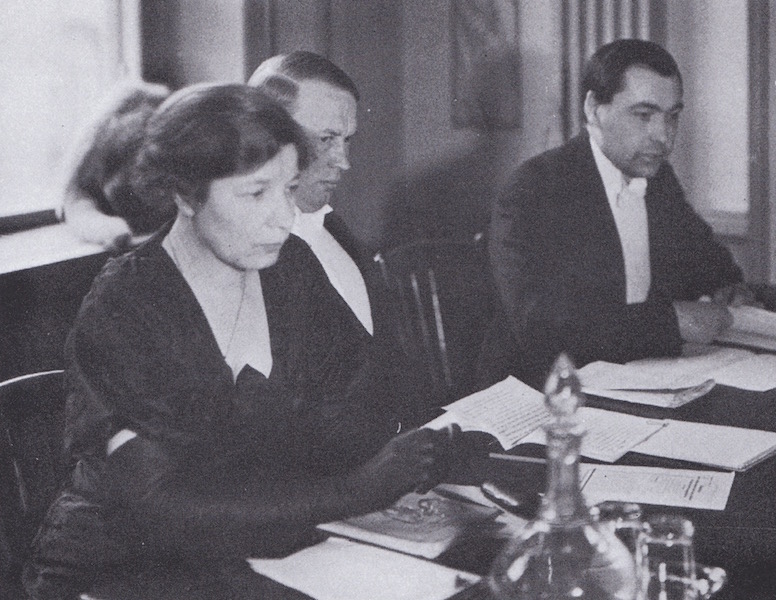 her imaginative creativity as an author of novels, constantly put under the pressure to deliver, in orderto be able to make her living.
And despite the lack of formal education she soon gained status as an authoritative scholar  - here, on the photo to the left, serving as an opponent at her friend´s Andrea Andreen´s dissertation 1933, and thereafter in 1944, as the second woman after Selma Lagerlöf, she was elected to take over the philosopher Hans Larsson´s chair number 15 in the Swedish Academy.
Especially in regard to the well certified fact of the great impact of andro - and etnocentric bias and unhealthy collegial cliquishness on the field of archeology and anthropology as well as history, it probably promotes a more beneficial process for the quality of the outcome to take the path of the self-taught, as did Elin Wägner and so many others in the field of matriarchal studies, wether they did it by free will or were offered no other choice, as for example Heide Göttner- Abendroth when starting up her own International Academy HAGIA, et al.
During her lifetime there was hardly anyone encouraging her for her deep investigations of our prehistoric past though. Quite the contrary so. And therefore she understood how to be tactic, not to rush anything, but to take the very cautious pussy-footing steps of the "First Mother".
Yet the verdict over her infraction into the Sanctuary of Maleness came to be inexorable, as we shall see later.
By the preparations of her investiture speech about her predecessor Hans Larsson of the chair nr 15 in the Swedish Academy, Wägner pursued tight contacts wither her former husband, who was a prominent person among the scholars of his time, and her close friend Fogelklou, who meant that Larsson would be an easy match for Wägner to tackle. That turned out to be wrong, though, as her sympathy for him increased, together with the accruement of his dichotomous view of the light subjecting the darkness, as she, due to her investigations of the matriarchal chtonic goddess veneration, had become aware of the fundaments of the male stream philosophy of the patriarchy, subduing the earlier mothercenterded societies worshipping of the moon and the moisty darkness in earth hollows and caves, by its merciless bright light.  She writes to Landquist: (my transl.)
"That about the antagonism between the light and the darkness, I find really screwy not at least of a convergence philosophy, but I don´t dare to express my critic more clearly, and thus you didn´t understand how much criticism it lies behind it. I think that he is just as prejudiced as the old Greeks were, but hasn´t got the same incentive for that, as he doesn´t have any reason to fear the subdued mother age, or how one might describe the form of culture that preceded their time."
Anyway the reservations to the philosophy of her predecessor Hans Larsson didn´t make her mentioning them in her investiture speech, but remained instead polite and dignified throughout, which rendered her great credit as well as her waiving to flag with her private close connection to the philosophers through her fathers scholarship, as well as to draw on the many student anecdotes told about "Larsson The Wise", by his friends that she had heard so often
The deep digging in Hans Larssons writings seems though to have stimulated her interest for the epistemological reasoning in his philosophy, which is quite understandable, in the light of her by then well developed consciousness about the fundaments of male stream philosophy and the kind of biased thinking it represented. And she couldn´t resist the temptation of at least coming up with these minor reminders of her own perspectives, presented in her Väckarklocka (Alarm Clock) 1941,  in the end of her speech:
"The realm of research in the Western Philosophy has its limitations backwards in time, at about 500 years before Christ, a short time in Väckarklocka (Alarm Clock)! / whilst its spatial limits frame the European and American continents / a limited area for the one who has read Briffault. / Here we henceforth can find Hans Larsson, wandering with the philosophers as a younger college and respectfully critical friend, contemplating, receptive and sifting."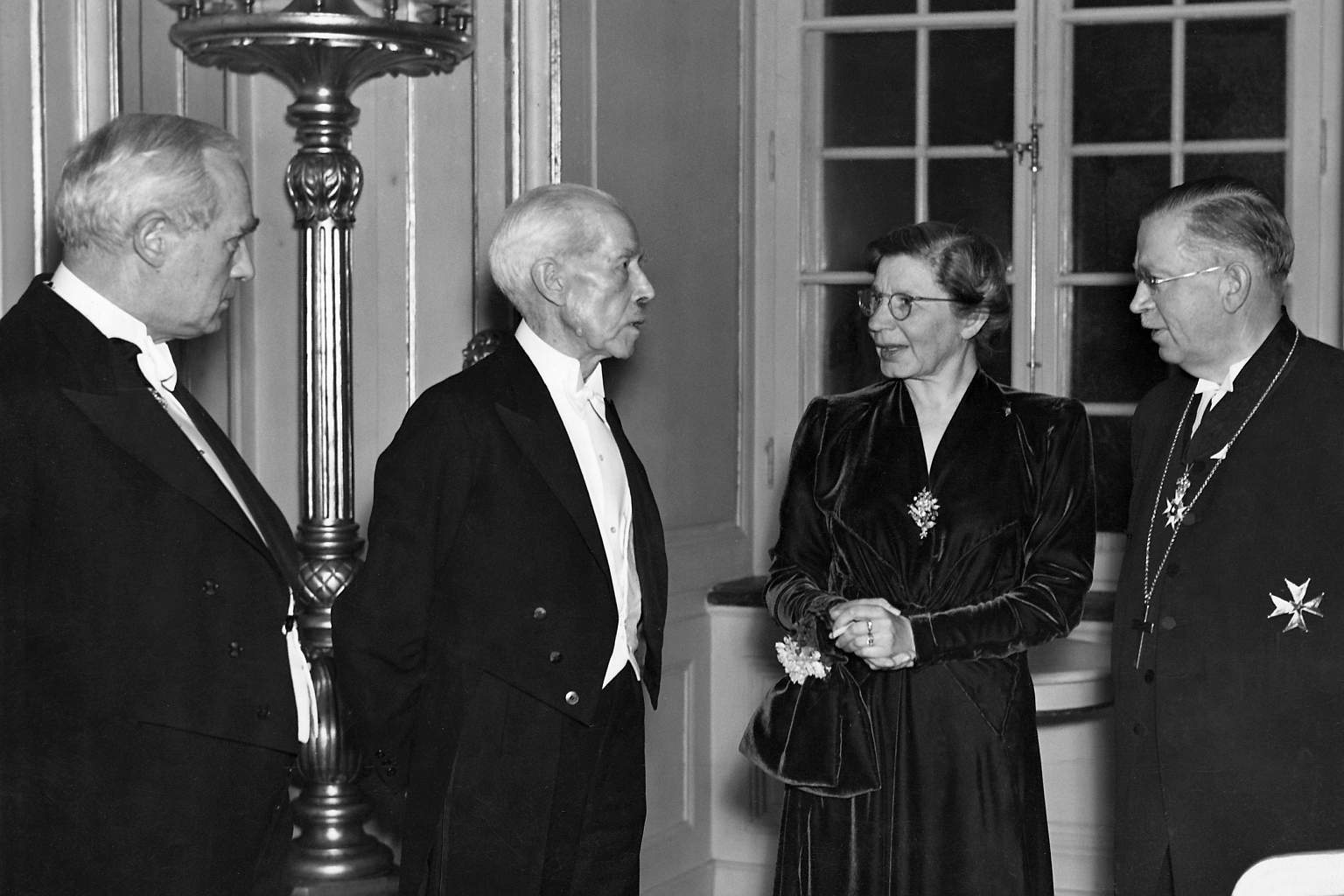 Elin Wägner is welcomed into the Swedish Academy by professor Ahnlund, the author Per Hallström and the bishop Thor Andrae to the right.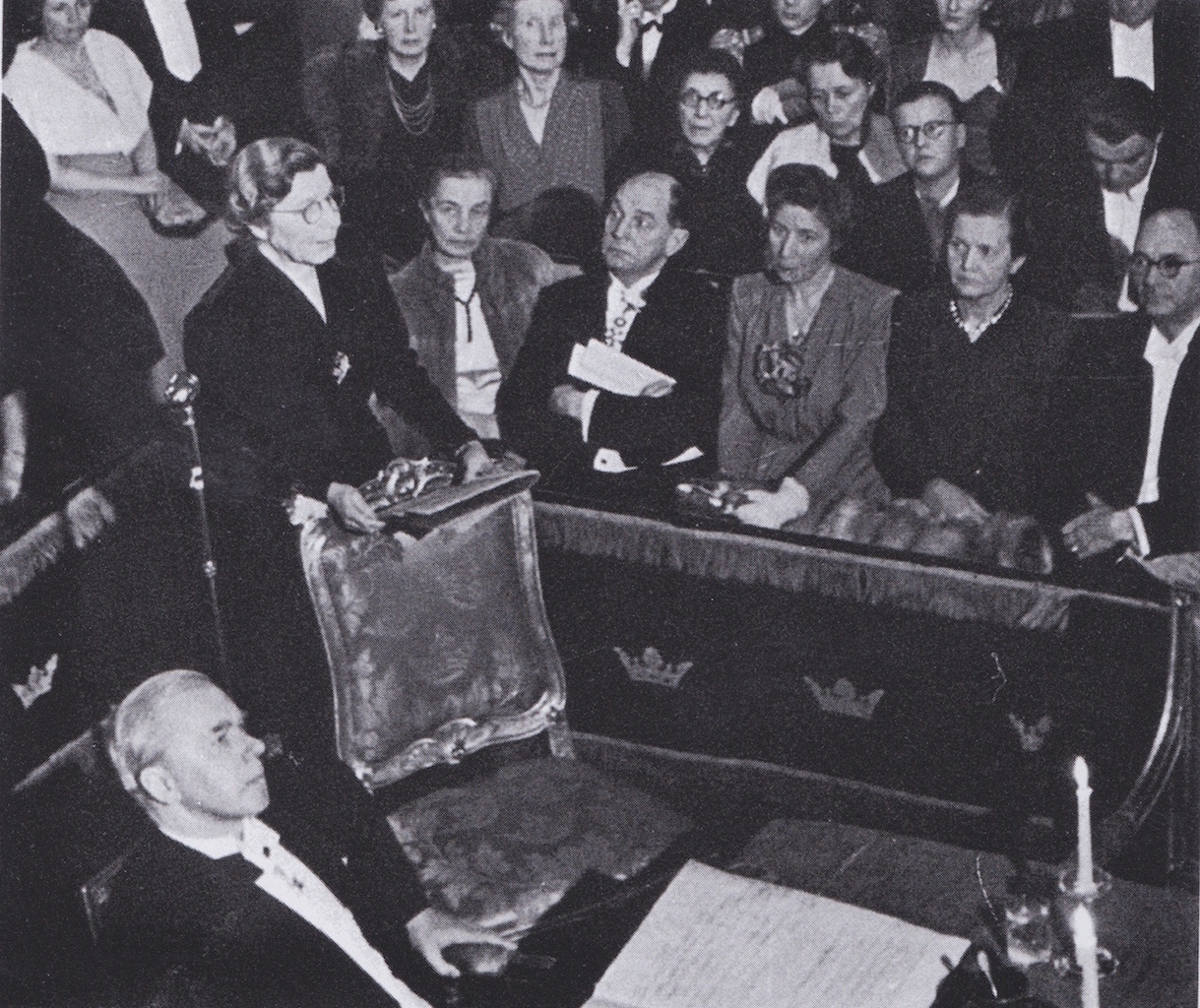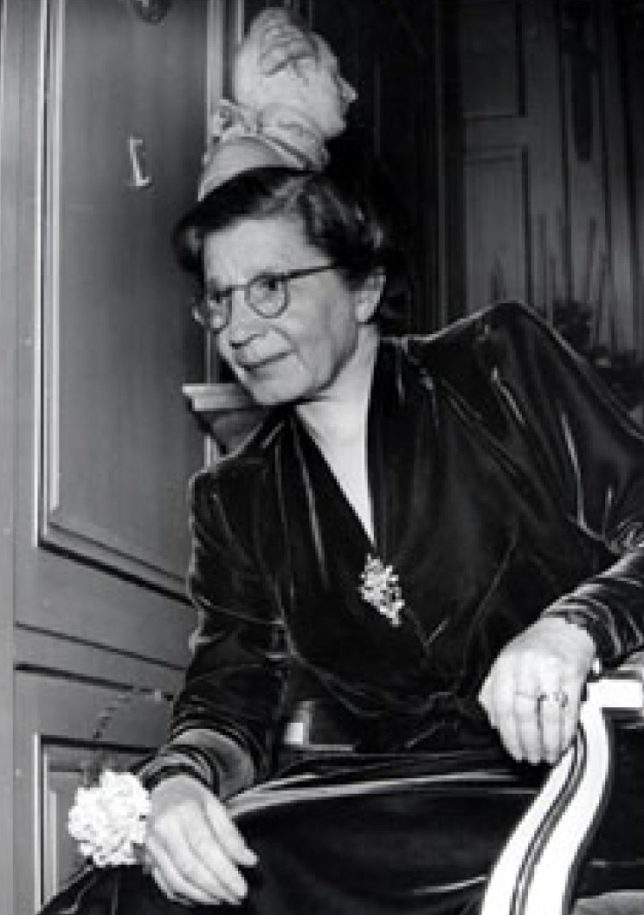 The Swedish Academy member mr  Hallström escorted the "women´s movement" in blue silk shoes (according to her friend Barbro Alving) into the chair number XV in the Swedish Academy. And afterwards there was held the traditional banquet. There isn´t much told about her well-being among the gentlemen in her dairies and letters, only some mildly ironic glimpses were caught on the behalf of her fiend Fogelklou: the bishop Tor Andrae had exchanged some words together with her about the matriarchy:
(My transl.)
"During the banquet I experienced three things:1) that the professor in languages Bengt Hesselman who was my man at table talked so devotedly and warmth about you and your Arnold- book 2) that professor Martin Lamm on the other side of the table praised KJ in loud tunes 3) that Andrae declared that the women had a really bad time during the matriarchy, which was a later and sparsely existing form, but better during the earlier monogamous patriarchy, in which at least the women who really were something, were appreciated. In our time women have got so much influence that only a tiny little bit more would be too much. For example his wife, who was the one who governed most things in his bishopric. She was against female priests, which he wasn´t himself though, why I answered him that women who took such a position easily attained influence."
The sum of the conversation: "… I have got it all backwards on the matriarchy."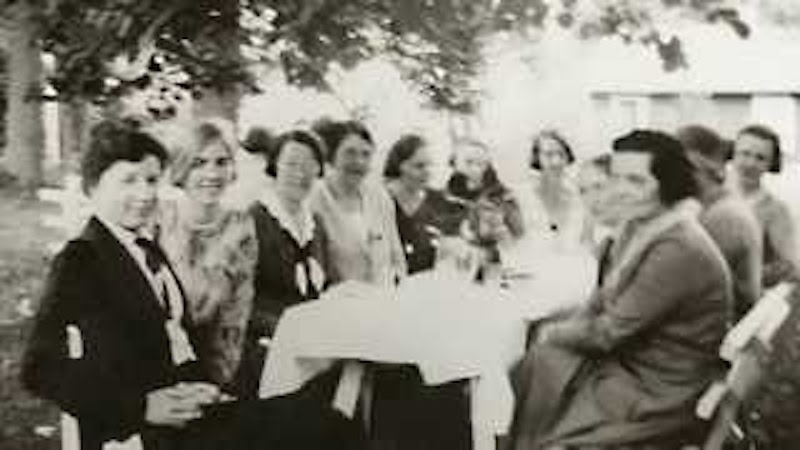 After the banquet at the Swedish Academy Elin gathered her female fiends in the mot fashionable restaurant in Stockholm; the Opera Bar. (On the photo  some of her best friends from the Fogelstad assambley).Although she was famous for being shy and timid, she was also appreciated among her friends for beeing entertaining with
nice little whitty chats and gossip. Thus the evening had worked out nicely, according to what has been said.
The great variety of different cultural and natural environments in her life, partly settled in a traditional lifestyle in Småland, supplemented later on by her friend Flory Gate, who settled as a neighbour in the village Berg, and her ecologically based self-sufficiency household, contrasting the cosmopolitan life Wägner lived. Inspired by Gandhi and English Quakers, she worked as a peace negotiator in Europe in between WWI and WWII, close connected to other pioneers of international women´s peace organisations. These experiences led to novels dramatizing the tragic course of world events and imagining solutions women and men could bring about together. The cosmopolitan journalist and peaceworker, co-funder of Save the Children, member of the international women´s congregation WOWO etc, surrounded by the most current events in Europe, as well as in the Swedish political and cultural happenings around  the Swedish Fogelstad - assembley, and their radical weekly Tidevarvet, in which she both published her articles and edited, probably all of it had a great impact on the flexibility as well as the holistic complexity and openness of her mind - the so called "dialogic nomadism" in terms of the postmodernist Braidotti.
Elin Wägner undertook a lot of journeys to different countries in Europe in her many varied tasks as a journalist / peacemaker and member of
different kinds of international women´s organisations as for example WOWO et al, as well as the peace-conference in Haag 1915 etc etc.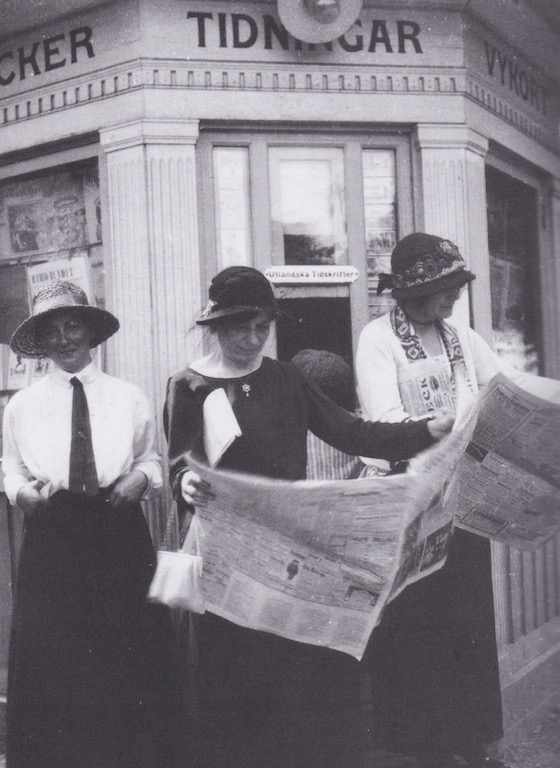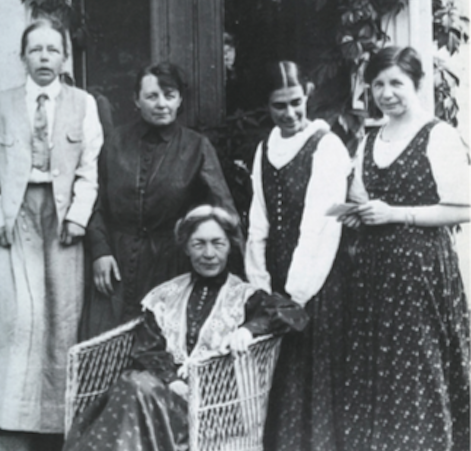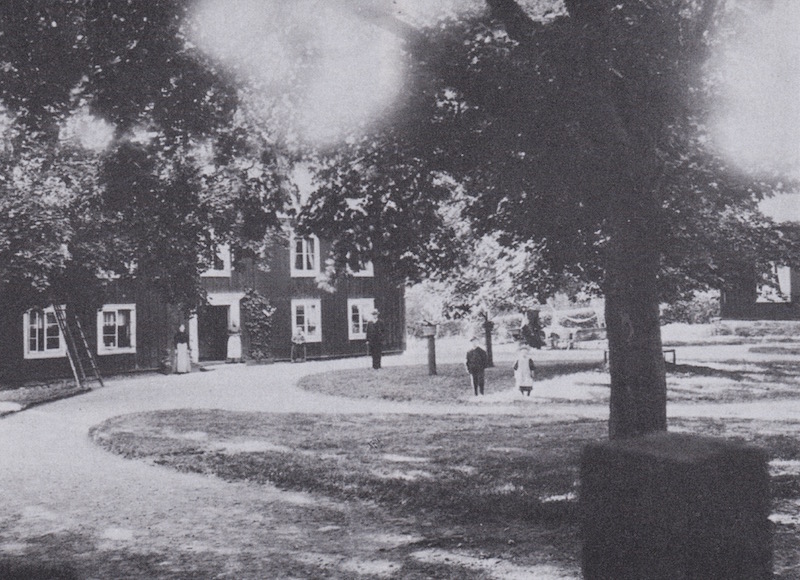 The childhood pradise: the vicarage in Tolg in Småland
Another crucial factor which seems to have made  great impression on the young Elin, was the task of her female relatives on her mothers line, who according to a longlasting tradition of marrying priests, to run the voloumnious self-substainable households in the vicarages on the countryside in Småland, and the great prowess,  dignity and hospitality to all the visitors that the vicarages regularily embraced as guests, that they had represented, as she remembered her grandmother and aunt.
This image of the proud dignified, all-round and indespensable vicarages first ladies was then later juxtaposed to the deep alienation of the modern housewifes marginalised in their homes, bereft from all their earlier craftsmens pride, and the question rised: whas that what the women themselves had asked for?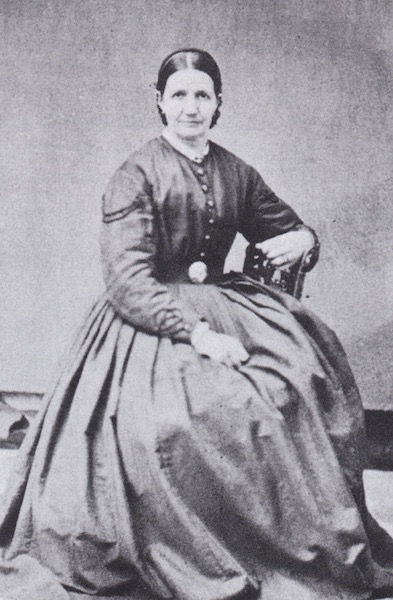 Elin´s grandmother; Mathilda Ekedahl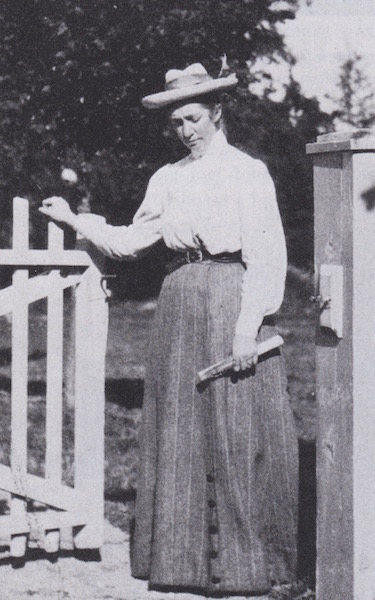 Elin´s aunt Maria Ekedahl
There, in the vicarages of Tolg and later Berg, deep into the dark forest in Småland, she spent her summers during her upbringing, and eventually built her own home; Lilla Björka, where she lived close to nature and the old folk traditions, wisdom and tales of Vährend - the same area as was the environment for Wilhelm Moberg´s epics, among others also famous because of its legendary tale about the women led by Blenda throwing out the danish invadors on their own while their men were out at war, and unique advantageous laws of heredity for women.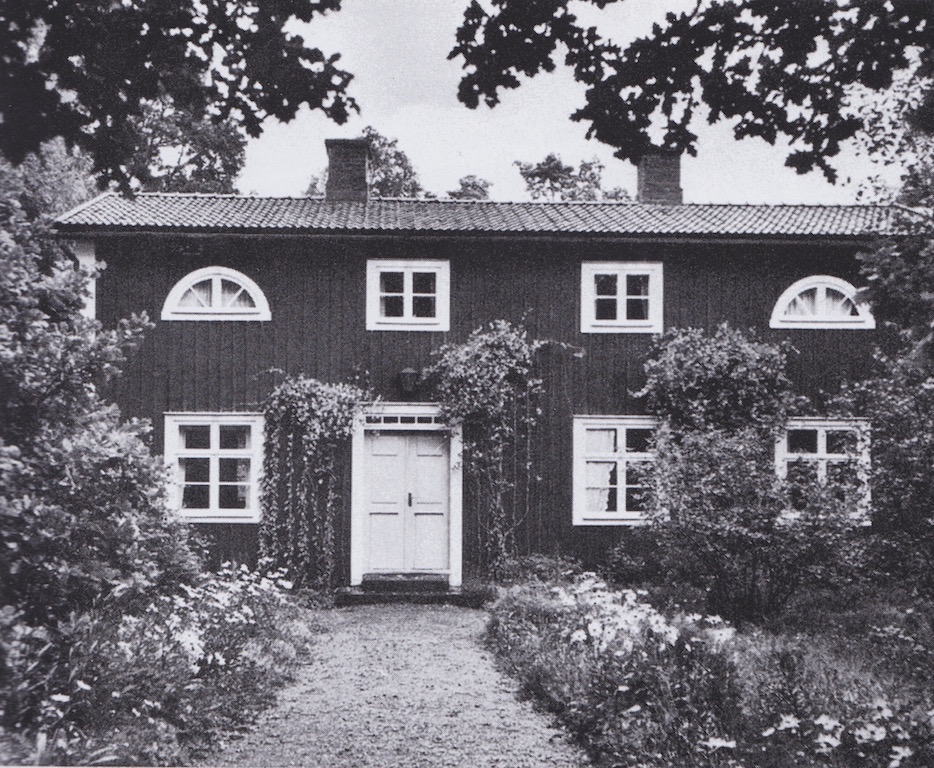 Elins home Lilla Björka, in the village Berg in Småland, built 1925.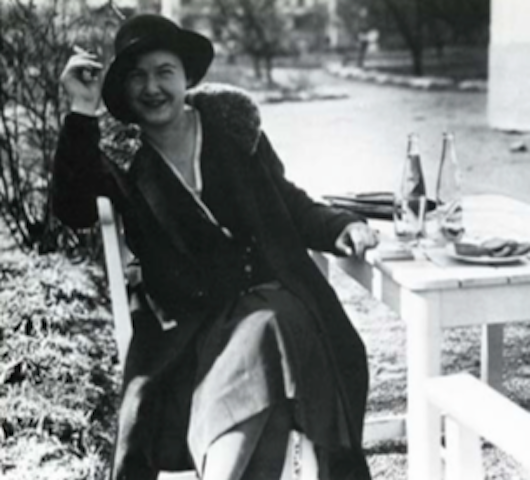 Barbro Alving, a close friend to Elin who later would become one of the most well respected and famous journalists in Sweden, on her visit at Lilla Björka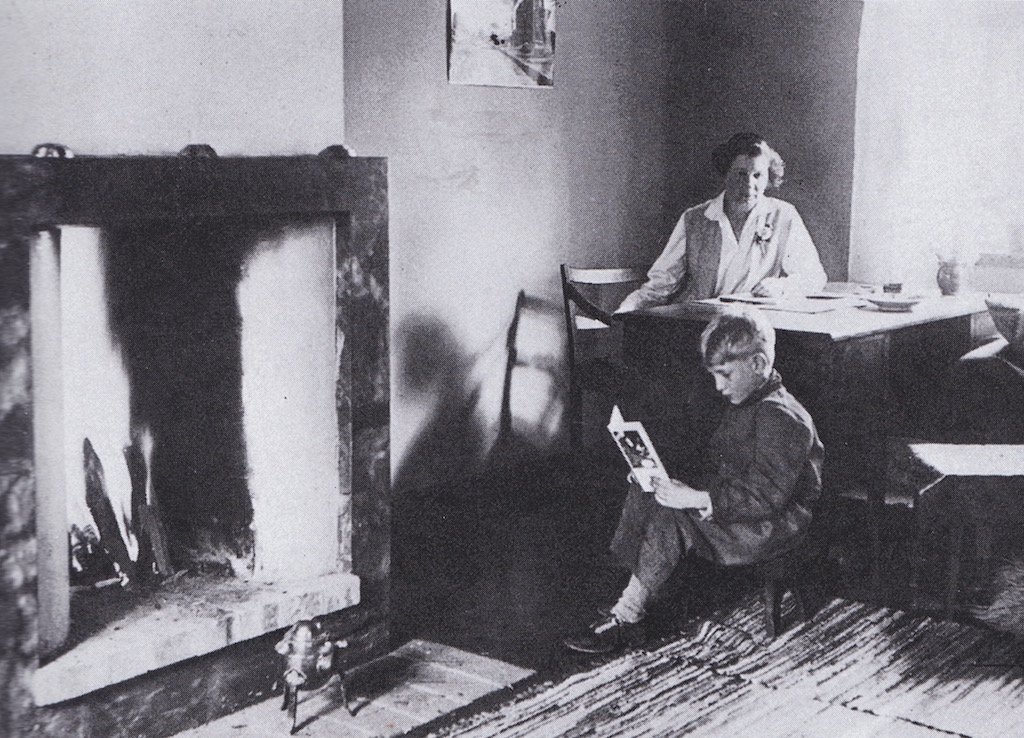 Elin Wägner in her home; Lilla Björka together with her nephew,Vanni, whom she took care of as her own child.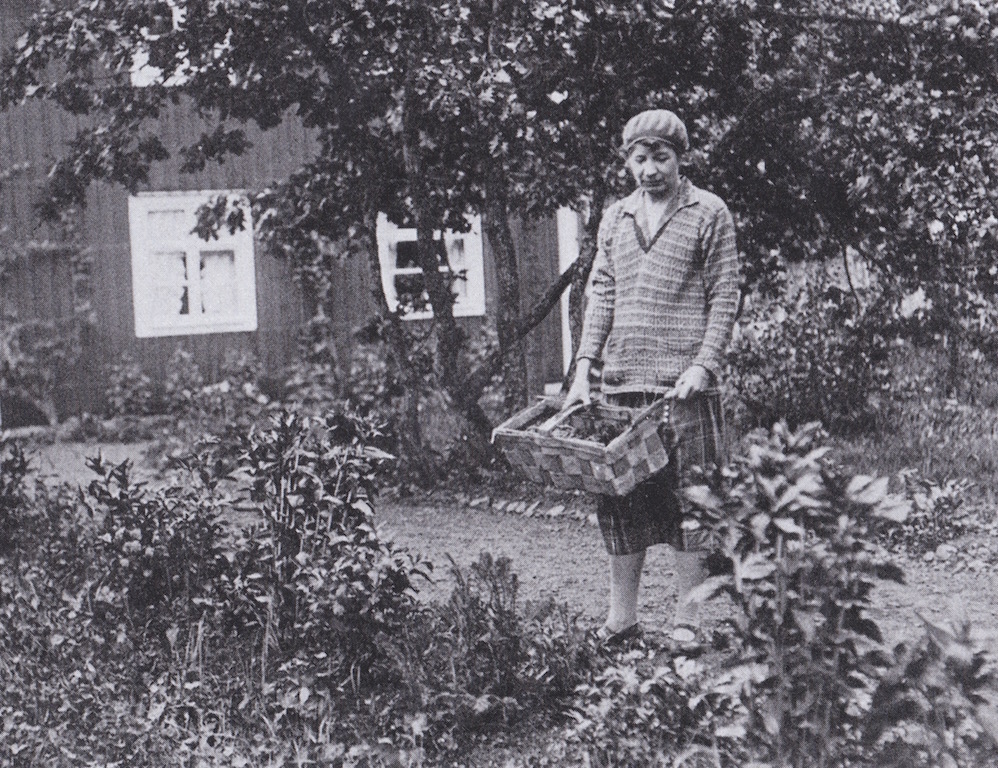 Elin Wägner relaxing in her beautiful garden at Lilla Björka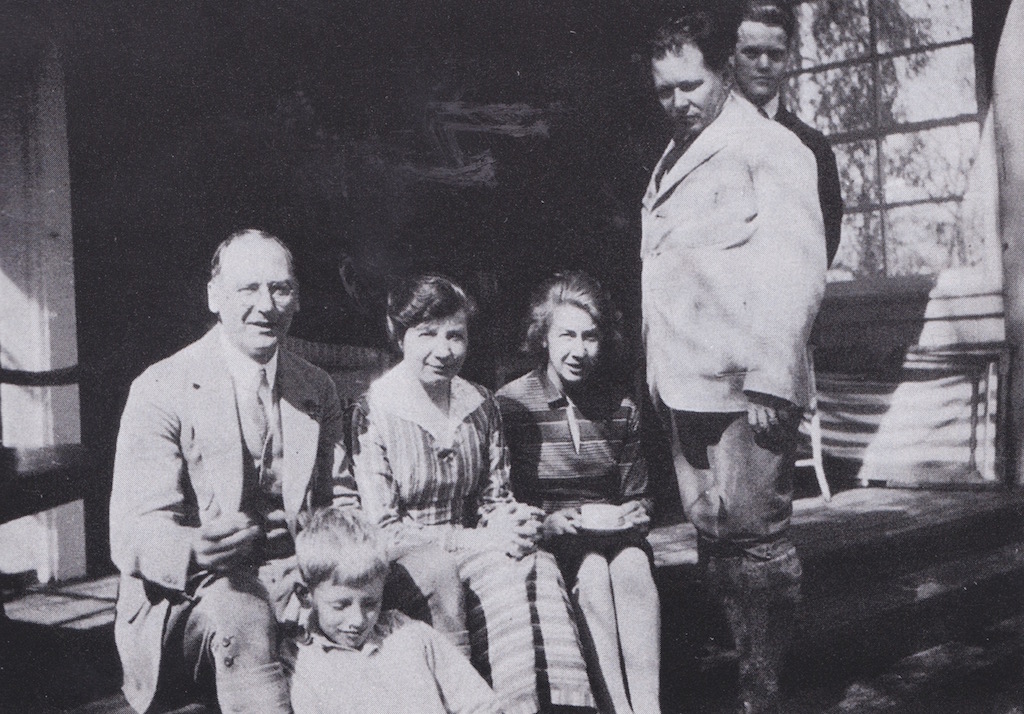 The wellknown couple Axel and Signe Höjer (to the right of Elin), working as a childrens doctor and nurse in Indien, Assam and West Africa in the 50th, resulting in Signe Höjer writing about her encounter with the "maternelle" societies in these countries.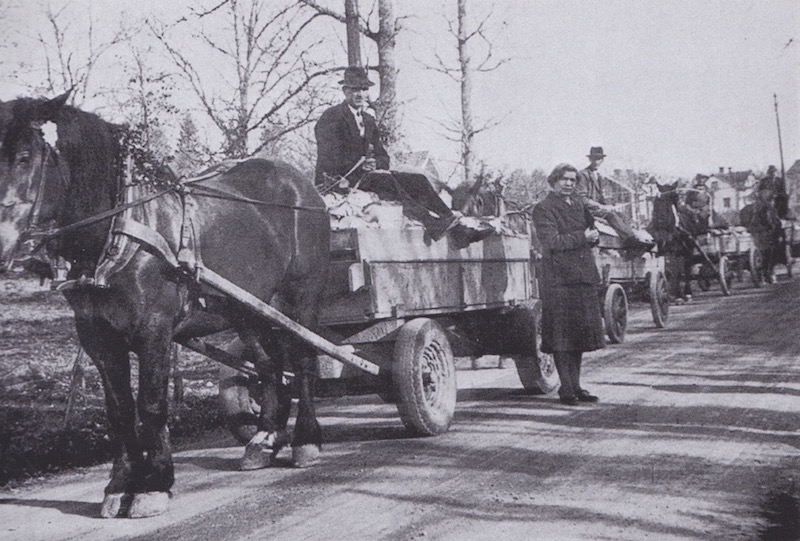 Big party on Elin Wägner´s 60th birthday, several loads of wood for warming her house as a birthday present.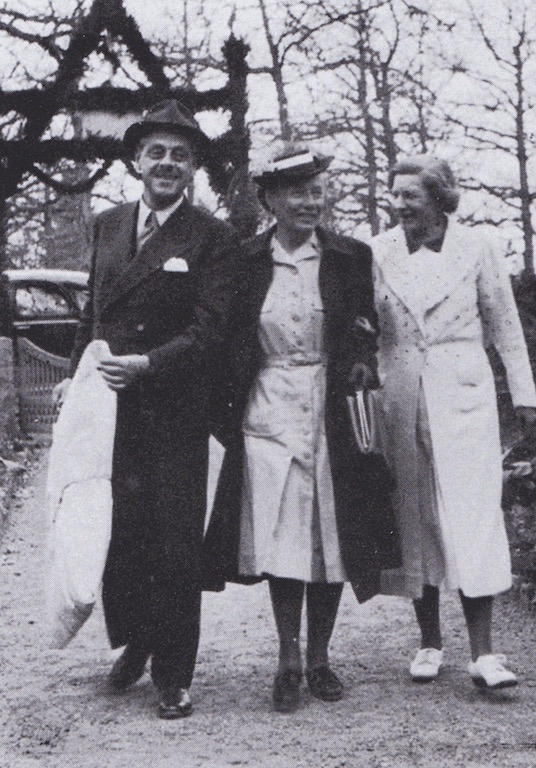 The famous book editor Tor Bonnier and his wife Tora Nordström Bonnier congratulating Elin Wägner on her 60 years birthday at home in Berg in Småland.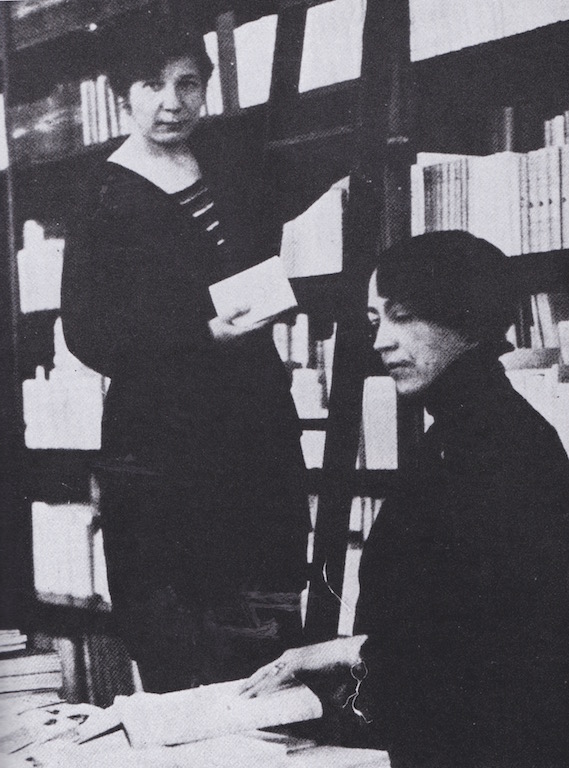 Elin Wägner together with her friend and journalist college Marika Stiernstedt at a library in Stockholm, 1921.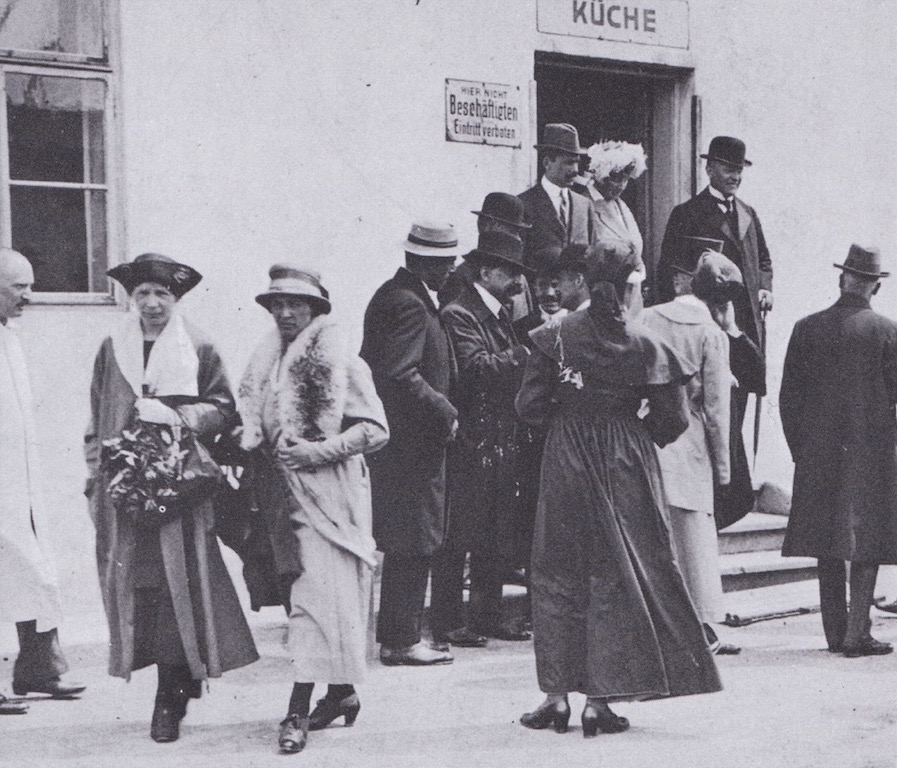 Elin Wägner together with the leader of Save The Children; Elsa Björkman, 1921 delivering help to the children in Vienna beneath.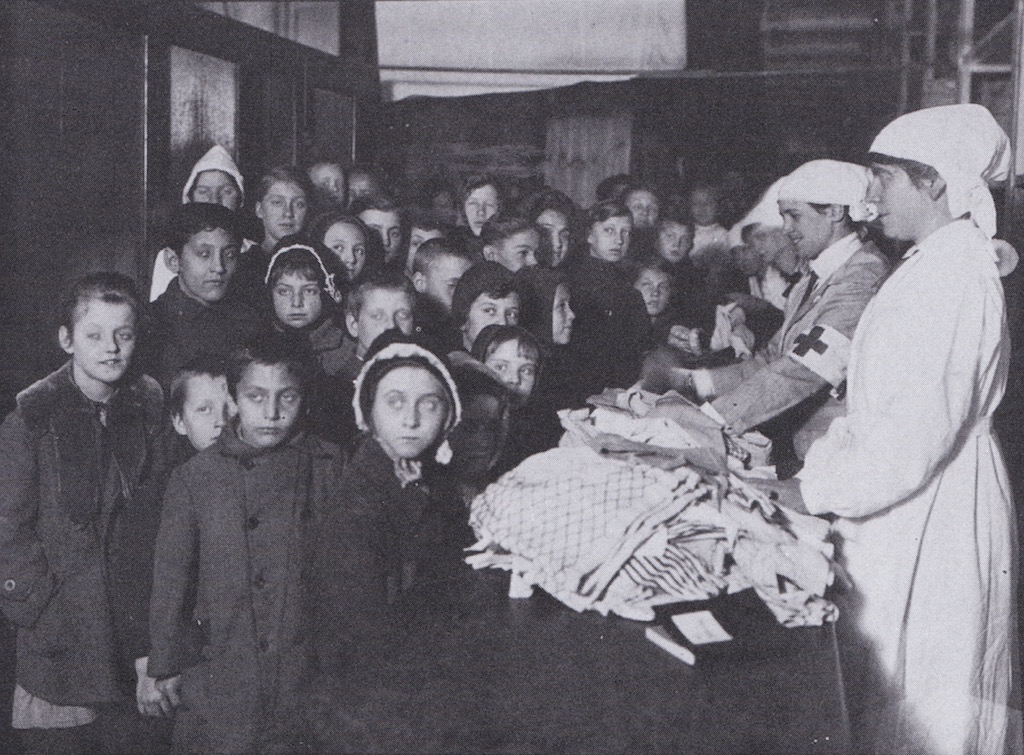 Now its time to continue the presentation of Elin Wägners life and work with the matriarchy issue that she spent a lot of time and effort to investigate and to introduce to her Swedish readers preferably in her most famous book Väckarklocka (Alarm Clock) 1941, and which has caused her so much belitteling ridicule of her fellow countrymen and colleges and perhaps even is the reason of her being omitted from history herself, although her aim thereby was no less than to re-establish the history of womenhood.
Some comments on the mere scientific issues of the topic will though be made here first.
For the first time since the investigations about the "matriarchy" set out with Bachofen and Morgan et al. in the 19th century, it has been elutriated a clearly limited definition of what is meant by the context:"matriarchy"  by as well the philosopher of science dr Heide Göttner Abendroth as the american anthropologist Peggy Reeves Sanday; which must be considered crucial for the outcome, because how successful might it be concerning the scientific rigor, to go looking for something you don´t even know what it is? Anyway that is exactly the way it has been done  hitherto, which among others is pointed out in this article by Joan Marler.
In many of the articles on the topic you will thus get informed of the notion that nobody still has been able to find a matriarchy according to its "true" meaning, but without specifying what this true meaning is meant to be.
Beyond this, Heide Göttner Abendroth has by inductive method worked out an elaborate theoretical framework to the multidisciplinary field of Modern Matriarchal Studies, which represent a new paradigm of social science that will be more specifically presented on this Website Blog later.
This is important to stress, as many of the critics of the research of matriarchy don´t take this fact into account, but more or less deliberately seem to prefer to act as if the so called "matriarchalists" ideologically are out on the fringe of popular science promoting the idea of "gyneocracy" = "rule of women" mirroring the patriarchal kind of hierarchical oppressive system, which is totally out of relevance.
As the definition of the concept of "matriarchy" by HGA and / or of Peggy Reeves Sanday, could have been of great help in structuring the complex web of ideas in Elin Wägner´s picturing a fully realistic alternative to the colonialistic, war - and violence- centered patriarchy, I strongly regret that Leppänen omit the possibility of offering Wägner and her matriarchal vision the restitution from the derogatory stamp of being a "naive utopian", as she / it  deserves.
And that´s what I am trying to show has been more or less (un-) consciously or deliberately done by Leppänen on the page: Bollocks or Science thats the Question in her dissertation Rethinking Civilisation in a European Feminist Context, History, Nature Women in Elin Wägner´s Väckarklocka about the issue of matriarchy in Väckarklocka, although she in the introduction asserts that her carriage on this issue must be neutral.
Anyway it becomes quite clear that that´s not the aim either of the message in Väckarklocka (Alarm clock)  but quite the contrary to establish a society in balance in which both men and women share the same rights and obligations equally.
Leppänen deserves credit though for her considerable investigations of the earlier relatively unknown and/or forgotten influences on Elin Wägner´s matriarchy issue from the Austrian female scholars and intellectuals who 1936 established the WOWO assembley. I find these women so interesting and their bold and radically up to date WOWO - plans of creating a new worldorder so interesting, that i would like to give them and their admirable WOWO-enterprise a whole page each on this Website / blog, but know I have to to tighten up and stick to the theme of  MMS.
Especially Rosa Mayreder whom I find seems to have been Austria´s Elin Wägner, another multifaceted brilliant intellectual, musician and libretto-writer etc etc.
In the following I will also stress the striking difference in the scientifical watchkeeping by the ardent witch-hunters against supposed "non-scientifical", "naive" and "romanticising" "feminist matriarchalists", demonized as arbitrary avengers and / or striving for a traditional antifeminist submissive female housewives role of supposed prehistory, undertaken not at least by the third wave feminist scholars themselves, under the lead of their male stream colleges and professional superiors, and the almost totally absence of comments of the non-scientifical male stream highly destructive ideas as for example that one produced by Otto Weininger (and to a great deal also Freud)  et al, as well as by Claude Lévi-Strauss, Donald Brown , Robert Schaeffer et al. who without any evidence at all have been claiming the universality of patriarchy, the former greatly tributed up to current date.
After this exhaustive introduction of Elin Wägner´s life and work it will be a greeat pleasure to present her writings in one of the best books I ever have read: VÄCKARKLOCKA/ Alarm Clock, 1941 (as soon as it will be ready the day after tomorrow or so, as well as the pages  about Wägner´s two different political platforms, The Fogelstad group  WOWO women creating a new word - order)
                                              Mathilde Vaerting 1884–1977                                                                  Bertha Eckstein Diener 1874 -  1948
                                    Rosa Mayreder, 1858 –  1938                                                                              Sofie Lazarsfeld 1881 – 1976