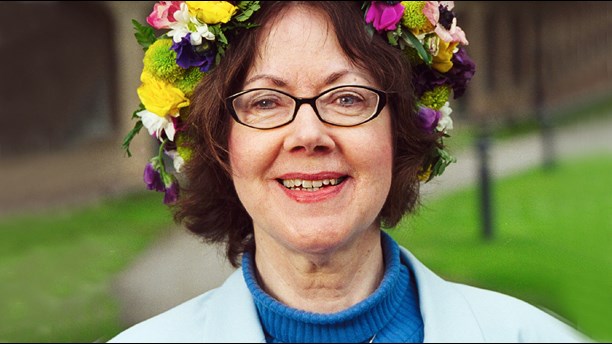 SVENSK TEXT LÄNGST NER PÅ SIDAN!
No fortresses, no weapons, no rulers. Once upon a time, life was dominated by one inspirational power, the cult of the great goddess
PUBLISHED  1994-11-02 in daily Dagens Nyheter
Is the myht of creation the most successful brainwashing of the times?
It says that the woman was blamed for losing paradise. However, new research suggests that the harmonious societies of that former era was colored by an ethics associated with the female. An ethics from which we have got much to  learn,  Eva Moberg argues.
There are no future visions anymore, people laments. There are no utopias, no reason for hope. Then one would think that glimpses of hope would spread rapidly, that good news would be received with open arms.
But it does not happen - if the news is contradicting the unspoken axioms of our culture, that development constantly is moving forward and upward, and that the nature of human beings is identical to the one of the man in male dominated societies.
If one just for one single moment succeeds in liberating oneself from these preconceived  notions - and know how to read  English - you can get a lot of new, hopeful  findings of research in the fields of mythology, anthropology and above all; archeology.
As far as I know, no Swedish publisher has yet translated one of the most important summaries of these new findings, "The Chalice and the Blade", published in 1987, written by the American peace researcher, lawyer and interdisciplinary scholar Riane Eisler. (However, it is available in Danish and Norwegian.)
The book is an ambitious feat, a clear and vibrant concentrate of research from enormously large fields in time and space. Eisler highlights the contents of the interpretations and applies the consequences thereof on our time and our entire wolrdview and view upon ourselves as human beings.
She also introduces system theory perspectives, with concepts from chaos research, but that part of the book would be too much to aqdvocate here.
Through the carbon 14 method and other new technologies, a lot of archaeological material has been revised and often proved to be significantly older than one first have thought. The Belief in Development have led to a red herring; if an item has been more advanced than another, then it has been assumed that it has been created later in time. A less biased starting point in conjunction with a variety of new excavations over the past decades has given a new and surprising picture of prehistory.
When the theory of a prehistoric matriarchate never  could be proved, one simply came to the conclusion that the patriarchy had always have existed. If something is not the one, then it must bee the other! Either - or, according to our well-known mindset. That there might have been a balance between the sexes was a too utopian thought to be taken seriously. Nevertheless, now this seems likely to have been existing.
The following overall patterns must now be considered as being coated with probability close enough to certainty to be reagarded as scientifically proved: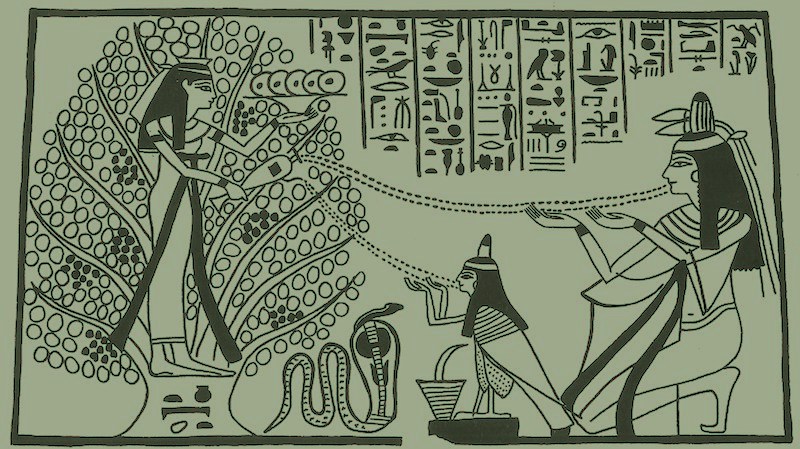 1) A major change of system took place in Southeastern Europe and in Asia from between 5,000-4,000 years BC and 1,000 years BC.
2) The Great Wars arose and were institutionalized during this period.
3) The culture which preceeded this warlike change was remarkably peaceful and lasted far beyond our own culture.
4) This culture was considerably much more materially and culturally developed than previously thought.
5) The prevailing worldview was by then dominated by the faith in life-giving goddesses and was considerably more egalitarian and less hierarchical than the latter cultures.
James Mellaart's excavations in Catal Hüyük and Hacilar in contemporary Turkey display at least fifteen centuries of continuous and peaceful, abundantly rich artistic culture. No weapons, no fortifications, nothing of, or about any mighty rulers. Everything is, according to Mellaart,  pervaded by one great and inspiring power, the cult of the great goddess, the creator of nature.
Archaeologist Marija Gimbutas, whose work was described by Tore Håkansson on this site yesterday, has summarized the results of about 3,000 excavations in Europe and in Asia. All these excavations from the Neolithic period (from about 10,000 years BC to about 3,000 years BC) display a notable mutual similarity. And furthermore, a striking resemblance to the excavations in Crete, which has been wellknown and explored for a long time, although much work still remains there. Crete was thus not unique, not a rare paradise - on the contrary, it could have been the common culture in this part of the world for thousands of years. Symbols, motifs, themes, the style of clothing and hairstyles - all exhibits striking conformances.
The atmosphere of life-wisdom, beauty worship, sexual openness and relaxation, exquisite artistry and playfulness appearing in these excavations is starkly contrasting the remains of the following cultures.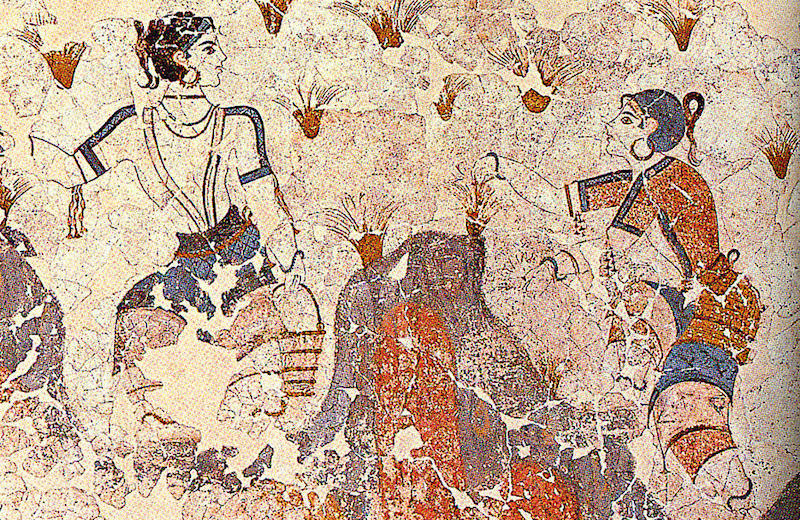 All of this was to succumb. About 1,000 years BC, the entire shift has been completed. The women have been enslaved, the goddesses have been raped, killed, or become wives of male war gods, or had other functions, such as protecting the war. From now on everywhere  the kind of  "kurgan"- graves appear -  which constitutes pompous complexes with one male only and several females, horses and weapons. Common features are now fortifications, weapon collections, social divisions, the fear of death, instead of  worshipping life.
How and why this changes took place, however, is controversial and only partially clarified. There might be a complicated network of causes behind. However, Riane Eisler strongly supports Marija Gimbutas´ and others  research, which argue that there were a series of invasions from mountain-, steppe- and desert people against the thriving communities of horticulture. They came in several waves with hundreds of years in between. There were Aries, Akajar, Hettites, Dores and Hebrews and many others. They had bronze weapons, male war -gods, strong hierarchies and often riding horses.
This process, of course, met resistance and lasted for millennia. According to Eisler, this period must have been fully equal with World War II, the Gulag Archipelago and the Black Death  in terms of total horror and mass killings. Complete populations of towns were impiled alive on piles. Often young girls were spared to become concubines or slaves. The Hebrews fought like the Canaanites for hundreds of years and crushed many other people along the way. The Old Testament shows that Jehovah could get angry if they were´nt sufficiently meticulous in their work of destruction.
After many centuries of chaos, decay and suffering,  the so-called cradle of our culture eventually emerged, partly in ancient Greece, partly in the countries of the Bible, where the three world religions originated. There is now good reason to believe that the best, the most fruitful and forward-looking in the classical heritage, as in Christianity, may have been elements which were saved from the former goddess cultures.
It was probably most women who conveyed traditions and legends from the old age. The Greek historian Hesiodos wrote only 300-400 years after the Dorian invasion that his mother had told him about "a golden race which in peace and harmony, cultivated the earth, which flourished and yielded an abundance of everything". These people were "pure in spirit and resisted the evil". Then came "a lower race with bronze weapons".
Pythagoras received his ethical teaching by a woman, Themistoclea, who was the priestess of Delphi, where a cult had survived from earlier times. Pericles' lifeguard was the erudite woman Aspasia. Socrates was taught by Diotima, even she a priestess. Socrates were killed just because he opposed the morality of "might is right", which by then had taken over. The new culture worshipped Zeus, a god which repeatedly and rapes.
Much of what earlier has been difficult to explain, now becomes fully conceivable. Aischylos drama "Orestien" most probably reflects the shift, literally. From now on it is assumed  to be morally tolerable to kill the mother (goddess), because it´s the father who is the real creator, and the mother just a container. A piece of propaganda, perhaps, still needed five hundred years afterwards.
This obviously does not mean that the woman is "better" than the man, or that "the female" is superior to the "male". It means that a society characterized by faith in Nature as a life-giving, renewing, healing and generous goddess, is rendered a completely different mentality than a society characterized by the belief in a revenging, punishing, threatening and suspicious god. Such a god gives rise to defensive and rigid thought patterns  and blocks the sensitivity, something we suffer from today.
Jesus from Nazareth, of course, didn´t either come out of nothing. His message is remarkably akin to the mentality before the shift, which most probably remained underground in this area with tardy and deep roots. Eisler makes an interesting note, that the strongest indication of the real existence of  Jesus,  has been his "feminism" - it was  regarded as so evil at the time, that no groups striving for influence would have been interested in equipping a their leader with these features, If it wouldn´t have existed  in reality.
The myth of creation in the Bible, which is available in two different versions, is a direct reflection of the change itself. Yes, it probably portrays a real event that took place during a couple of thousand years. People were driven out of the paradise, and it is important to blame the woman for this, in order to legitimize the new system.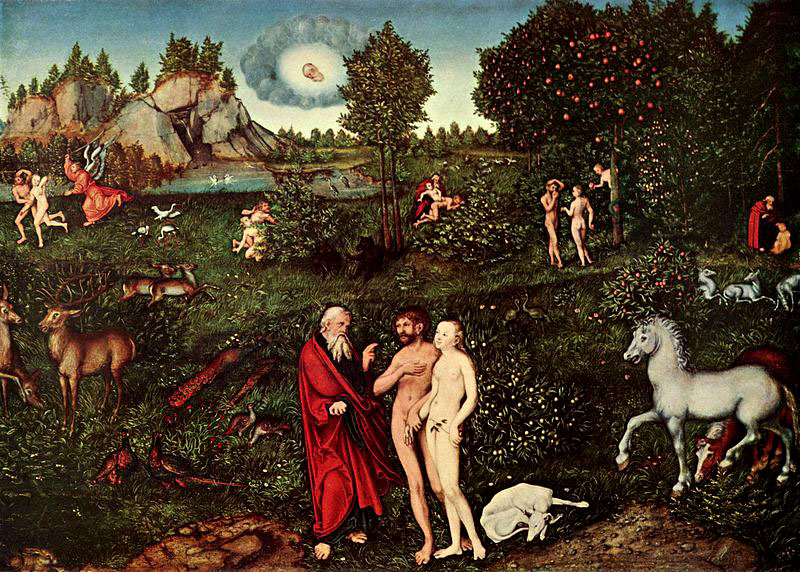 The biggest crime should from now on be woman's seeking for knowledge. She now becomes the property of her husband and therefore has to veil herself for other men. Now she has to manifold her birthes, and she has to give birth in pain. It might allude to the fact that birth control now is being banned, after it´s existence since ancient times. The snake, which was the goddess´ attribute, now becomes the instrument of evil.
Perhaps the myth of creation in the Bible is the most successful example of brainwashing ever.
Virginity and virtue became the main values of the woman, being treated as an economic commodities between fathers, husbands, brothers and their families. And that´s the way it has remained so far in many of these areas.
It is a common idea that, after all, men's society has been a prerequisite for The Development, especially of technology. One might, for example, often hear that if women would have been in the lead, we would still have been living in caves. Therefore, it must be recalled that the cultures preceding patriarchy, 5,000-4,000 years B.C. had all what was needed for a high civilization. They had justice and laws, administration, architecture, water pipes, irrigation systems, viaducts, streets, metallurgy, all kinds of sophisticated crafts, and a richly developed social, religious and artistic life.
By this I am not claiming these old cultures to be idyllic. Of course there were shadows. Of course, there were societies with conflicts and problems, illnesses, accidents and sorrows like everywhere else. But it is likely that they actually lacked many of the completely unnecessary plagues and truncations of human life, physically and mentally, introduced with patriarchy and since then have reproduced itself through long chains until today.
A religion is both a reflection of the time and the society in which it has developed, and a powerful instrument to further its values ​​into the future. A fact that might explain how a traumatic shift, and social relationships long before Jesus's birth, can form people's beliefs and moral perceptions even today. How powerful groups among Christians and Muslims effectively might backpedal the work for women's right to gain control over their bodies even on the threshold to 2000.
Due to the onset of the shrinkage of emotional life by then, it has been possible for some thousand years to totally ignore the immense consequences on all levels of the primeval relationship i.e. the relationship between children and parents and between men and women. Characterized by power and inequality, the result will be a completely different society and a completely different culture, in comparison whith one characterized by reciprocity and equivalence. This is the key factor in all societal change and hopes for the future. Unfortunately, there are relatively few people who have realized this beyond the feminism, and it is still regarded as a special concern for a minor,  less important group of human beings.
And yet, all serious analyzes of the future deliver the same univical message. The recent Roma report, for example, emphasizes that if a final world disaster is to be avoided, we must develop a new global ethic, where the guiding ideals are harmonising with, instead of conquerring nature, as well as an identification with the living and future generations. In other words, exactly what was prevailing in the goddess cultures.
Dramatist, former columnist
On DN's lead page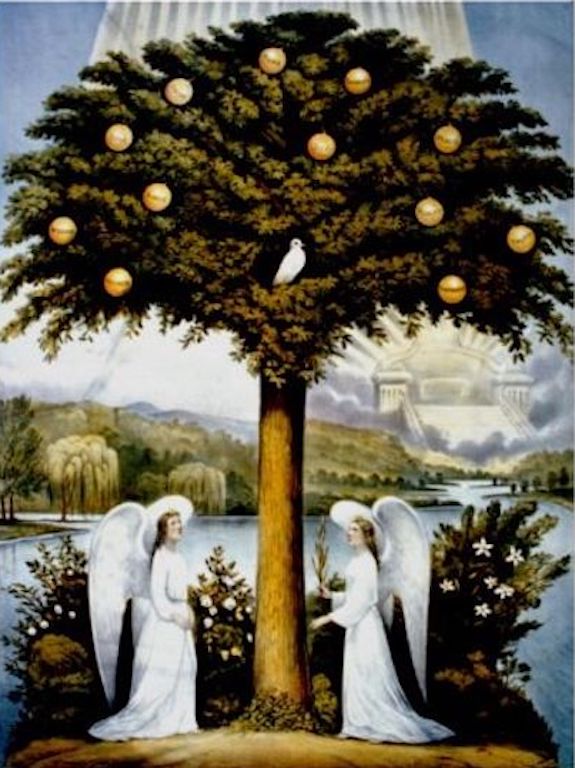 Tredje sidan DN
SVENSK TEXT:
Inga fästningar, inga vapen, inga härskare. En gång i tiden dominerades livet av en enda inspirerande kraft, kulten av den stora gudinnan
PUBLICERAD 1994-11-02 i Dagens Nyheter
Är skapelseberättelsen tidernas mest lyckade hjärntvätt?
Den säger att kvinnan bar skulden för att vi miste paradiset. Ny forskning tyder dock på att urtidens harmoniska samhällen färgades av en etik som förknippades med just kvinnan. En etik att lära av, menar Eva Moberg.
DET FINNS inga framtidsvisioner längre, suckas det. Det finns inga utopier, ingen grund för hopp. Då skulle man kunna tro att glimtar av hopp skulle spridas snabbt, att goda nyheter skulle tas emot med öppna armar.
Men så sker inte - om nyheterna strider mot outtalade axiom i vår kultur, som att utvecklingen alltid går framåt och uppåt, och att människans natur är identisk med människan under manssamhället.
Om man ett ögonblick lyckas befria sig från dessa förutfattade meningar - och läser engelska - kan man ta till sig en mängd nya hoppingivande forskningsresultat från mytologi, antropologi och framför allt arkeologi.
Såvitt jag vet har inget svenskt förlag ännu översatt en av de viktigaste sammanfattningarna av de nya resultaten, "The Chalice and the Blade" (Kalken och klingan), som kom ut redan 1987, skriven av den amerikanska fredsforskaren, advokaten och tvärvetenskaparen Riane Eisler. (Den finns dock på danska och norska.)
Boken är en bedrift, ett klartänkt och levande koncentrat av forskning från oerhört stora fält i tid och rum. Eisler lyfter fram tolkningarnas innebörd och drar ut konsekvenserna av dem för vår tid och hela vår människosyn.
Hon för också in systemteoretiska perspektiv, med begrepp från kaosforskningen, men den delen av boken skulle föra långt att gå in på här.
Genom kol 14-metoden och annan ny teknik har massor av arkeologiskt material omdaterats och ofta visat sig vara betydligt äldre än man trott. Utvecklingstron har fört på villospår: om ett föremål har varit mer avancerat än ett annat, så har man utgått ifrån att det har skapats senare. En mer fördomsfri utgångspunkt i förening med en mängd nya utgrävningar under de senaste decennierna har gett en ny och överraskande bild av förhistorien.
När teorin om ett förhistoriskt matriarkat aldrig kunde bevisas, drog man helt enkelt slutsatsen att patriarkatet alltid hade funnits. Var det inte det ena, så måste det ju ha varit det andra! Antingen - eller, enligt vårt välkända tankemönster. Att det kunde ha funnits ett balanstillstånd mellan könen var en alltför utopisk tanke för atttas på allvar. Ändå framstår den nu som sannolik.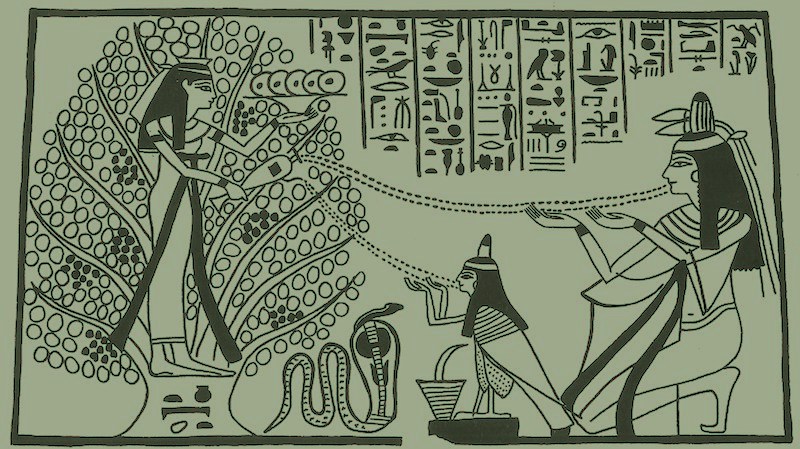 Följande övergripande mönster måste nu anses belagt med till visshet gränsande sannolikhet:
1) Ett stort systemskifte ägde rum i sydöstra Europa och Främre Asien någon gång mellan 5 000-4 000 år f Kr och 1 000 år f Kr.
2) De stora krigen uppstod och institutionaliserades under denna period.
3) Kulturen dessförinnan var påfallande fredlig och varade betydligt längre än vår egen kultur.
4) Denna kultur var betydligt mer utvecklad materiellt och kulturellt än man tidigare trott.
5) Den världsbild som då rådde dominerades av tron på livgivande gudinnor och var betydligt mer egalitär och mindre hierarkisk än de senare kulturerna.
James Mellaarts utgrävningar i Catal Hüyük och Hacilar i nuvarande Turkiet visar minst femton sekler av kontinuerlig och fredlig, överflödande rik artistisk kultur. Inga vapen, inga befästningar, ingenting av eller om några mäktiga härskare. Allting genomsyras enligt Mellaart av en enda stor och inspirerande kraft, kulten av den stora gudinnan, naturens skapare.
Arkeologen Marija Gimbutas, vars verk beskrevs av Tore Håkansson på denna plats i går, har sammanfattat resultaten från cirka 3 000 utgrävningar i Europa och Främre Asien. Alla dessa utgrävningar från den neolitiska tiden (från cirka 10 000 år f Kr till cirka 3 000 år f Kr) visar en märklig inbördes likhet. Och dessutom en slående likhet med utgrävningarna på Kreta, som sedan länge är väl kända och utforskade, även om mycket återstår där. Kreta var alltså inte något unikt, inte något sällsynt paradis - det kan tvärtom ha varit den vanliga kulturen i denna del av världen under flera tusen år. Symboler, motiv, teman, stilen på kläder och frisyrer - allt visar slående överensstämmelser.
Den atmosfär av livsbejakelse, skönhetsdyrkan, sexuell öppenhet och avspändhet, högt artisteri och lekfullhet som framträder i dessa utgrävningar står i skriande kontrast till lämningarna efter de följande kulturerna.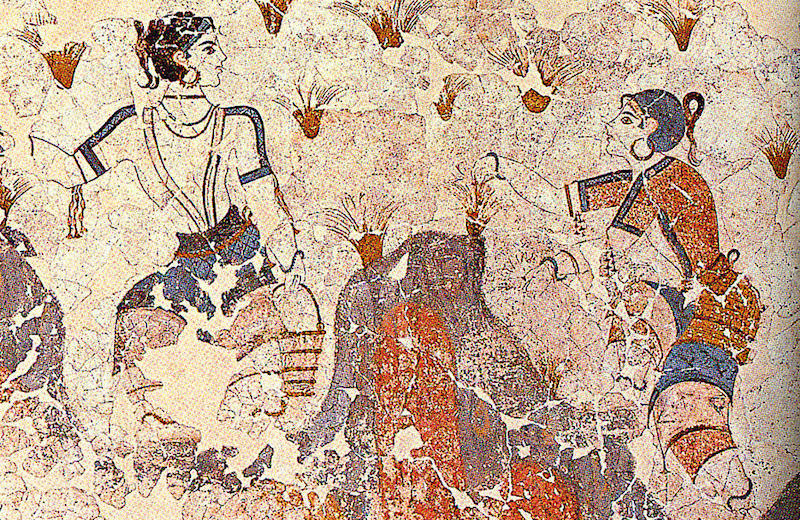 ALLT SKULLE gå under. Omkring 1 000 år f Kr är hela skiftet fullbordat. Kvinnorna har förslavats, gudinnorna har i myterna våldtagits, dödats eller blivit hustrur till manliga krigsgudar, eller fått andra funktioner, till exempel att beskydda kriget. Nu uppträder överallt hövdingagravarna - pompösa anläggningar med en man och flera kvinnor, hästar och vapen. Genomgående drag är nu befästningar, vapensamlingar, sociala klyftor, dödsfruktan i stället för livsdyrkan.
Hur och varför detta skifte ägde rum är däremot omstritt och bara delvis klarlagt. Det kan finnas ett komplicerat nät av orsaker bakom. Men Riane Eisler stöder sig starkt på Marija Gimbutas och andras forskningar, som tyder på att det skedde en rad invasioner från bergs-, stäpp- och ökenfolk mot de blomstrande trädgårdskulturerna. De kom i flera vågor med hundratals år mellan varje. Det var arier, akajer, hettiter, dorer och hebréer med flera. De hade bronsvapen, manliga krigsgudar, starka hierarkier och ofta ridhästar.
Den här processen mötte givetvis motstånd och tog årtusenden i anspråk. Enligt Eisler måste denna period ha varit fullt i paritet med andra världskriget, gulagarkipelagen och digerdöden sammantagna i fråga om fasor och massdödande. Hela stadsbefolkningar spetsades levande på pålar. Ofta skonades unga flickor för att bli konkubiner eller slavinnor. Hebréerna kämpade som bekant mot kanaanéerna i hundratals år och krossade på vägen många andra folk. Av Gamla testamentet framgår att Jehova kunde bli förtörnad om de inte var tillräckligt grundliga i sitt förintelseverk.
Efter många sekler av kaos, förfall och lidanden uppstod så småningom vår kulturs så kallade vaggor, dels i det antika Grekland, dels i Bibelns länder, där tre världsreligioner har sitt ursprung. Det visar sig nu finnas goda skäl att tro att det bästa, det mest fruktbara och framåtsyftande i det klassiska arvet, liksom i kristendomen, kan ha varit element som hade räddats över från de tidigare gudinnekulturerna.
Det var troligen mest kvinnor som överförde traditioner och legender från den gamla tiden. Den grekiske historieskrivaren Hesiodos skrev bara 300-400 år efter den doriska invasionen att hans mor berättat för honom om "en gyllene ras som i fred och harmoni odlade jorden, som blomstrade och gav i överflöd av allt gott". Dessa människor var "rena i anden och stod emot det onda". Sedan kom "en lägre ras med vapen av brons".
Pythagoras fick sin etiska undervisning av en kvinna, Themistoclea, som var prästinna i Delfi, där en kult levde kvar från äldre tid. Perikles livsledsagare var den lärda kvinnan Aspasia. Sokrates undervisades av Diotima, även hon prästinna. Sokrates dödades just för att han stod emot makt-är-rätt-moralen, som nu tagit överhanden överallt. Den nya kulturen hyllar Zeus, en gud som ideligen dödar och våldtar.
Mycket som varit svårförklarligt blir nu fullt begripligt. Aischylos drama "Orestien" avspeglar med all sannolikhet själva skiftet, bokstavligen. Det går ut på att det nu ska vara tillåtet att döda modern (gudinnan), ty fadern är den egentliga skaparen, och modern är bara en behållare. Kanske ett propagandastycke, behövligt ännu fem hundra år efteråt.
Det här betyder självfallet inte att kvinnan är "bättre" än mannen, eller att "det kvinnliga" är överlägset "det manliga". Det betyder att ett samhälle som präglas av tron på Naturen som en livgivande, förnyande, läkande och generös gudinna får en helt annan mentalitet än ett samhälle som präglas av tron på en hämnande, straffande, hotande och misstänksam gud. En sådan gud ger upphov till defensiva och rigida tankemönster och blockerar sensibiliteten, något som vi lider av än i denna dag.
Jesus från Nasaret kom naturligtvis inte heller ur intet. Hans budskap är påfallande besläktat med mentaliteten före skiftet, som säkert levde kvar underjordiskt i det här området med sega och djupa rötter. Eisler gör det intressanta påpekandet att det starkaste indiciet för att Jesus verkligen har levat är just hans "feminism" - den var så illa sedd på den tiden att ingen gruppering som ville ha något inflytande skulle ha haft intresse av att utrusta en figur med detta drag om det inte funnits i verkligheten.
BIBELNS skapelseberättelse, som finns i två olika versioner, är en direkt avspegling av själva skiftet. Ja, det skildrar troligen en verklig händelse som ägde rum under ett par tusen år. Människorna drevs ut ur paradiset, och det är viktigt att ge kvinnan skulden för detta, för att legitimera det nya systemet.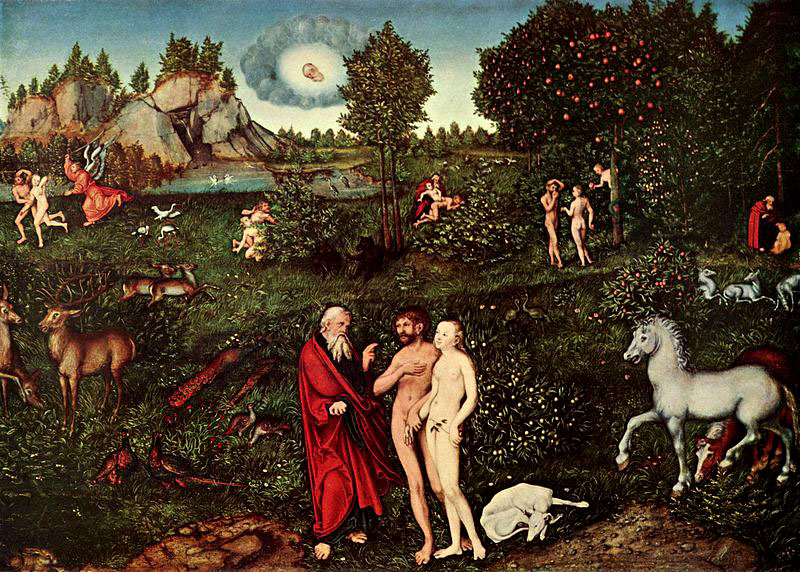 Det största brottet ska nu vara kvinnans kunskapssökande. Hon blir nu mannens egendom och måste därför skyla sig för andra män. Nu ska hon mångfaldiga sitt födande, och hon ska föda med smärta. Det kan syfta på att födelsekontroll nu blir förbjudet efter att ha funnits sedan urminnes tider. Ormen, som var gudinnans attribut, blir nu det ondas redskap.
Kanske är skapelseberättelsen historiens mest framgångsrika fall av hjärntvätt.
Oskuld och dygd blev nu kvinnans främsta värden, hanterade som ekonomiska realiteter mellan far, make, bröder och deras släkter. Och så har det förblivit fram till i dag i stora delar av dessa områden.
Det är en vanlig föreställning att manssamhället nog trots allt har varit en förutsättning för utvecklingen, särskilt den tekniska. Man kan till exempel få höra att om kvinnorna fått råda, så hade vi alltjämt bott kvar i grottor. Därför måste man envist påminna om att kulturerna före patriarkatet, 5 000-4 000 år före vår tideräkning och tidigare, hade allt som behövs för en hög civilisation. De hade rättsväsen och lagar, administration, arkitektur, vattenledningar, bevattningssystem, viadukter, gator, metallurgi, allt slags avancerat hantverk, och ett rikt utvecklat socialt, religiöst och artistiskt liv.
Härmed vill jag inte ha sagt att det var några idyller. Självklart fanns det skuggor. Självklart var det samhällen med konflikter och problem, sjukdomar, olyckor och sorger som alla andra. Men det är troligt att de faktiskt saknade många av de fullständigt onödiga plågor och stympningar av människolivet, fysiskt och psykiskt, som infördes med patriarkatet och sedan dess har fortplantat sig i långa kedjor fram till våra dagar.
En religion är både en avspegling av den tid och det samhälle där den har vuxit fram, och en kraft som för vidare dess värderingar in i framtiden. Det förklarar hur ett traumatiskt skifte, och samhällsförhållanden långt före Jesu födelse, kan forma människors föreställningar och moraluppfattning än i dag. Hur maktgrupperingar bland kristna och muslimer effektivt kan bromsa arbetet för kvinnors rätt att råda över sina kroppar ännu på tröskeln till år 2000.
På grund av den då påbörjade krympningen av känslolivet har det varit möjligt att i ett par tusen år totalt förbise de oöverskådliga följderna på alla plan av ur-relationens karaktär. Ur-relationen är förhållandet mellan barn och föräldrar och mellan man och kvinna. När den präglas av makt och ojämlikhet så blir resultatet ett helt annat samhälle och en helt annan kultur än om den präglas av ömsesidighet och likvärdighet. Det här är nyckelfaktorn i all samhällsförändring och allt framtidshopp. Tyvärr är det relativt få personer som har insett det här utanför feminismen, och den betraktas alltjämt som ett särintresse.
Och ändå ger alla seriösa framtidsanalyser samma entydiga besked. Romklubbens senaste rapport understryker till exempel att om en slutlig världskatastrof ska kunna undvikas, måste vi utveckla en ny global etik, där de vägledande idealen är harmoni i stället för erövring av naturen och identifikation med de levande och med kommande generationer. Med andra ord: exakt det som var rådande i gudinnekulturerna.
EVA MOBERG
Dramatiker, tidigare kolumnist
på DN:s ledarsida